You are currently browsing the tag archive for the 'passion' tag.
I think conferences like these must be a taste of heaven… a taste of what it will be like to worship with the multitude
Have any of you here done anything that scared you so much you thought you might have a bodily functions moment…. Or that your heart might stop…. Or that you might never survive???
This year we went to The Gold Coast, Surfers Paradise baby!
We hit the theme parks, Sea world, Wet and Wild and Movie World.
Movie world has this one ride that scared the biginoes out of me but that I knew I had to get my son to do.  I knew he wouldn't do it unless I did.  So yip.
It is the Superman Escape Ride.  After waiting waiting waiting about 45 mintutes it was our turn.  It is at this point that my son informs me that you accelerate from zero to 100 in 2 seconds.  Yes.  What the heck!
Let me show you……
So as we shot out now going 100km an hour my son and I had very different reactions.  I could not scream because I was too scared.  Nor could I shut my eyes.  However my son started with some noise then closed his eyes for the rest of his short life… I mean for the rest of the ride…
At the end I stumbled off the roller coaster, we laughed and high fived because we had survived!   My fearless 9 year old neice who also rode with us was like that was the best ride ever auntie Claire now can we go on the green lantern….  Like heck no!
It took courage for me to go on the superman escape.  And the reward of my courage was bragging rights and the thrill of the experience!
To go up the mountain you have to have courage.
Moses had to have courage.
He was one man out of a whole nation and he said I am not afraid I will go up on the mountain and meet God because he knew the heart of God, he had a personal relationship.  The reward of his courage was he met with God face to face, he met with God like no one else has in history.
Jonathan and his armour bearer had to have courage to climb up the mountain to take on the philistine army.  While the rest of their army nana napped under the pogemgrante tree with the king they snuck out to go make a difference.  They had a chat and said "if we meet the enemy and they call us up then we've got them, we've won, but if we meet the enemy and they say we'll come down to you, then we'll run because that's a sign from God"  So they find the enemy, and sure enough the philistine solider says come on up….
Boom Jonathan says!  God is with us and nothing is impossible.
It was 2 against whatever, agasint 50-100 men, but the odds were ever in their favour because they knew that God was with them.
They were game changers, while the rest of the army slept they won a great victory.
We must understand that God does not live in our "reality." He is not confined to odds and statistics. God calls us to throw off those constraints and allow ourselves to dream. Jonathan, was a dreamer who refused to be boxed in by "reality". He had a dream to take on the army of the Philistines. On their way to the battle Jonathan reminded his friend who was carrying his armour that God could save by many or by few. He was declaring the truth that we can dream an audacious dream because the God we serve is not confined to statistics. THIS reality gave Jonathan courage.  THIS reality fuelled his dream.
Now you might not be facing an army or climbing a literal mountain to meet with God and lead a nation but you have got to tap into supernatural courage to do all audiacous things that God has called YOU to do.
To talk to your friend in class
To have courage to say hey im praying
To have courage to pray right there and then
Courage to live your life differently
Courage to pursue God wholeheartedly
You need courage to grab onto the dream that God has for your life…. That God has for you next year.
Where does that courage come from?
Stir your heart with the promises of God
Chop the wood
Faith in an invisible God who is faithful always
STIR YOUR HEART
God has given us this book for a reason.  Its got just to gather dust.  Its not just a good idea.  This is the living breathing alive active powerful Word of God, that reveals who God is and what God does and what God likes and what God is doing.  Not just at the big picture level but to you personally.
To grow in courage you have got to get this book inside you – you've got to read it and let it inspire you.
Put yourself in their shoes….   When goliath faced the giant, he didn't know the end of the story, he was just a teenager with courage to believe that if God said He would win he would win.    When Moses split the red sea, he didn't know the end of the story, he was just an old man with a stick got said lift up.  When the little boy brought his lunch to Jesus he thought maybe just the disciples might get a snack, he didn't know the end of the story, that his lunch box fed 20000 people.  When Shadrach, Mesach and Abendago said no way will we bow down to a false god, they didnt know the end of the story and that they would walk with Jesus in the fire.   They are humans, like you and me.  What got them in the book is their faith and courage, they chose to step out and let God step in.
Getting familiar with this book feeds your faith and faith is the key that unlocks adventure.  You get stirred to believe in a great God who does extraordinary things with ordinary people.
Chop the wood so when the fire falls you'll be ready
We've got to get ready in the simple every day parts of our lives.  If you want fire in your life you don't just go "boom here I am, I'm ready" – you prepare.
Chop the wood.  Pray.  Read the Bible.  Go to church.
Do the everyday things to make your life an altar for the fire to fall.  Live consistent.
If you live your life with that yes then God knows He can nudge you in a direction, towards an adventure and you'll say yes.
Building a lifestyle of worship, of faithfulness, of passion and purpose chops the wood and gets you ready for the fire to fall.  Its like you're painting a massive target on your life saying here am I Lord, send me!
Faith in a faithful God
Courage leads to faith.  Courage puts you in the seat of the roller coaster and straps you in but faith is knowing that you're going to zoom, its the confidence that its designed right and that every mechanical thing is working and functioning and that in 25 seconds you'll be able to breathe at normal speed again…
Courage caused Jonathan and his armour bearer to leave the safety of the snooze under the pomegranate tree, but faith took them into the battle and the victory.  Once they heard the enemy say "come on up here" they knew that God was at work and that nothing was impossible.
Faith isn't a what – it is in a who.  We have faith in an incredible God who breathed out the stars, who created the universe, who knows how many hairs you have on your head and knows all the thoughts and dreams of your heart.  We have faith in a God who loves us so much that 2000 years ago Jesus came and lived a perfect life that we could never live and he died the death we should have, punished for the sins of all the world, for your sin, my sin.  Sin is the dumb stuff we do, the things that push us away from God.  God is perfect and holy and could have just left it at that but He wanted to be our Father and to be our friend.  So Jesus came and lived and died and took our place – its like he exchanged his perfect rap sheet for our rubbish rap sheet and now we can be called innocent and not guilty.
This is who we have faith in.  The God who has done everything to make us His friend.  The God who created you on purpose with a purpose.  The God who holds the universe together and is at work yesterday, today, tomorrow.
And He is calling you to have courage.  He is calling you to step up and step out and make a difference.  He has created you for adventures with Him.  He has created you to shine in the darkness of this world.  He has called you to be different.  He has called you to know Him and make Him known.  To do this you need courage, you need to stir yourself up with His promises and with the stories of people doing amazing things.   You need to live a life that holds fast to what it means to be God's friend, to chop the wood now so that when the fire falls, when the opportunity comes, when the roller coaster of your life takes off at 0-100 km per hour that you are ready and you need to know that God is good and great.
Life is more than breathing, you are on mission.  It might seem like mission impossible but with God He says IM POSSIBLE.  Its time to lift our vision and to stretch out into the more that God dreams for your life….
It is officially 35 sleeps till Christmas.   Or as my husband texted me on Wednesday, 5 Mondays.
Yikes.
That seems way too close.
One of the things I love about Christmas apart from the fact that we are celebrating the wonder and glory that Jesus, the King of the Universe, the Lord of Lords, Creator God stepped out of glory and into humanity, taking on the form of a tiny baby born in obscurity, born to live a perfect life, born to die a horrendous death, born to make a way for us to be saved and rescued, is the family traditions.
Every Christmas Eve after we get home from the Christmas Eve service our family open one present.  And it is …. New PJS!  Which means we have cute photos the next day!
Every family has its traditions but a big one is the Christmas meal.   Some do the lunch, some do the dinner, some do the mid afternoon whatever you would call it.   And isn't there something special about Christmas food.  Even if you eat it at other times in the year, it feels more wonderful and delicious because its Christmas.
When I married Tony I didn't realise that I married a Christmas foodie family.  My family were always yummy but pretty standard.  We embraced the kiwi summer effect and usually had a roast chicken and veges for lunch, followed by pav and strawberries, every year and then left overs and bbq for dinner.   Tony's sister however goes all out.  It's the turkey and the ham, the exotic salads and roast veges and 4 types of stuffing and the sauces and the graveys.   It takes all day and everyone does something.    Now I confess I feel very out of my depth in the kitchen on Christmas Day when we all get together.    So I'm allocated to bring strawberries, dairy free icecream, and pigs in blankets.  For those that don't know pigs in blankets are mini sausages wrapped in bacon.  That's my job every Christmas.    And on the day we all bring to the table our creations, fancy or simple, and we eat until we feel like we'll sleep for a week and bring on new years resolutions!   Whose with me?
Imagine Church like that Christmas Day feast.   Imagine if we all brought our best dish to the table, every week.    Or imagine if we expected one person to do all the cooking while the rest of us kicked back and watched another rerun of snoopys christmas?
We all have something to give, something to contribute and without your dish, something is missing, the feast is incomplete.
Now also, think about this.  Who is the feast for?  The feast is for us, yes.  We come and are fed, nourished.  But the feast is for the lost.  This is God's number one priority.  That the lost are saved, that the lost come and know how great God is, that He is real and that He has the power they need, not just for eternity but for now.  The world needs the feast we serve, need what we offer.  They need what you offer.
But often we can feel like I do on Christmas Day.  Inadequate and that what I bring to the table isn't flash or fancy or something other than what it is.   Sometimes I feel unsure if what I'm bringing is enough, or will be good enough.   I fight comparison and insecurity, yes over a Christmas dinner!
We've been talking about being a family and that we all have a role to play, all have a dish to bring,  but sometimes we can feel like we don't know what our place is, where we fit and what we can offer.
So this morning we're going to pull it back to the micro, we're going to look at YOU and ME, as individuals and discovering our passions and purposes.
When we find out who we are, how God has wired us, we can then bring our best dish, every week, with confidence and grace.
In John 6:1-15 we read about one boy who brought his dish to the table and it was used in extraordinary ways to feed a multitude of people.  God loves to take ordinary people and do amazing things with them.   "Great moves of God are usually preceded by simple acts of obedience, doing what can seem quite ordinary, saying yes to God in all things."
We need to get our eyes off ourselves and our sense of limitation and lift them up, as Jesus did, to the generous abundance of God, the God who created the universe, who split the sea, who knocked the walls of Jericho down with a shout, who cured lepers, gave sight to the blind, speech to the mute and life to the dead.   Our God has no limits.
2 Corinthians 4:7 says But we have this treasure in jars of clay to show that this all-surpassing power is from God and not from us.
So then, how do we find out what our signature dish is?   How do we find out what we are bringing to the table?
I adore this post!  I just had to share it and file it as it may pop up as an example in a message somewhere someday….
How to Carve Out Your Life's Passion – John Maxwell
Sculptor Ra Paulette has an unusual passion—he digs caves by hand and then turns his newly created spaces into works  of art. Using only a pickaxe, a scraper and a wheelbarrow, Paulette has been digging caves for nearly 30 years. His multiroom structures are remarkable; they are sculptures and art galleries in one. Filled with paintings, pools, skylights, furniture and waterfalls, Paulette's caves are redefining the way art can be experienced.
For the Academy Award-nominated documentary Cavedigger, director Jeffrey Karoff follows Paulette as he carves into the earth, one shovelful at a time. In the film—which you can find at CavediggerDocumentary.com—Paulette explains, "When I'm working on a project, I'm totally obsessed. I'm thinking about it all day long. All night long, I'm dreaming… digging dreams. Most people who are engaged in physical labor aren't having the fun that I'm having."
I can't say that I'd ever want to spend time digging in a cave, but I certainly admire Paulette. He has passion. He loves what he does, and he does it with exuberance.
When you think about or talk about your work , are you like Paulette? Does it consume you? Do you wake up excited about it? Do you go to sleep thinking about it? If not, your life may be missing an ingredient.
Paulette is 74 now and still digging caves. Recently I turned 68, and like Paulette, I am still on fire. While other people my age may be slowing down, I'm revving up. I wake up early, excited to meet the challenges of my day. I'm like a kid. Let me tell you something: You never have to drag a passionate person out of bed!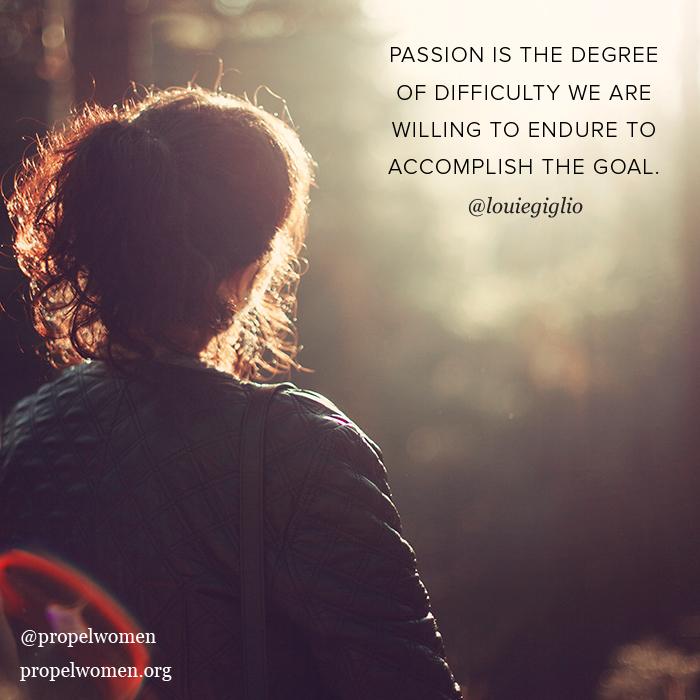 I am a big believer in living on purpose and with passion.  Our passion and purpose, the great WHY, must drive who we become and what we devote our time, energy, resources to.
My vision is to know God and make Him known.
I try to filter everything I do through that purpose and vision.   It is what gets me up out of bed.  It is what inspires me to be.  It is what has captured my focus.
Sometimes its not easy, not at all.  We forge through fire and charge head on at obstacles.  We make a stand and hold our ground.  We sweat.  We cry.  We bleed.  We fall.  But we arise and arise again.  Passion pushes us to move and keep going.   Purpose restores us.
Passivity may be an easy road but it does not satisfy.   Life is more than breathing.  More than our own personal comfort.   The challenges we face are worth it, both for ourselves and for those around us and those we directly influence and affect with what we are doing.
The world needs you.  It needs you to live your purpose.  God has wired us you and created you ON purpose for a purpose.  You are called to reach people that only you can reach.  You are called to demonstrate the reality and grace of our amazingly good God.  This may take you through treacherous waters and roaring flames, but again, it is worth it.   Knowing your purpose and living it with passion will keep the momentum of the mission moving, despite whatever obstacles you face.
 Don't you realize that in a race everyone runs, but only one person gets the prize? So run to win!  All athletes are disciplined in their training. They do it to win a prize that will fade away, but we do it for an eternal prize.  So I run with purpose in every step. I am not just shadowboxing.  I discipline my body like an athlete, training it to do what it should.  1 Corinthians 9:24-27
When your heart resonates with purpose the passion enables and sustains you to push through the circumstances and the grit necessary to see that come to pass.   When your heart is ablaze with vision the discipline required becomes part of the rhythm of how you live.
Will you take up the challenge?
Do you know your passion and purpose?
8 Ways to Change the World : Advice from 7 leaders on how to make a difference.
For most of us, it's our dream from a young age: We want to change the world.
Once you start getting older, that dream starts taking on substance. Maybe you dream of being a musician, touring the world and using your influence to give back. Maybe you plan to start a company that will transform business or a nonprofit that will end poverty. Or maybe you just want to help make a change, whatever that looks like.
They're all different plans, but they've got something in common: They're not easy. Big ideas never are. Changing the world doesn't happen by accident.
.
The Most Trying Part of Living a Good Story – Jeff Goins
Remember these three qualities of a good story
Good stories don't have predictable endings. Let go of your silly little plans and embrace the journey for what it is.
Heroes don't feel like heroes when they're being heroic. Being heroic means doing the hard thing, which often hurts, challenging every selfish bone in your body
Pain is how a character grows. A character doesn't change without hardship, so if we want to live our own meaningful stories, we need to stop finding ways to avoid discomfort. Instead, we must step into inconvenience.
Refill Your Passion Bucket #LiveYourList
1. Know your signs of fatigue. Watch the signs your body and personality are giving that will let you know that you need to find balance. If you are pushing yourself so hard that your body fights back…you might need to find balance. If you are acting in a way that goes against your core…you might need to find balance.
2. Say no. Learn to say no to the things you can't or do not want to do while following your dream. Early on in your chase you may have not had the opportunity to say no…now you might need to say no! 
+ so many more good tips to finding balance
.
.
Three immodestly dressed women walk into a church…
It is my hope that we will come to realize that behind each immodestly dressed woman, is a broken woman. Christian, and non-christian alike.
…
Why isn't our first reaction to the immodestly dressed woman one of,
"You are my sister. I love you! I don't condemn you." ?
…
Let's start praying that the gospel so invades our hearts that we are able to give to others, what we so undeservingly have already received. Only when that happens will we truly be able to demonstrate gospel modesty.
And then… start imagining what it would feel like to throw away our internal lists of all the expectations that we put on ourselves, and others.  That's a scary kind of freedom that is offered to us. Grace can be dangerous like that.
Thankfulness: Learning How to Speak a New Language
Wives we are fighting a real enemy who would love to see our marriages destroyed because of the huge affect our relationship with our spouse has on this world, beginning with our children.
Generations are affected by us not choosing the Lord and in this case, choosing to learn the language of thankfulness.
There is an urgency to fight; to wage war not of the flesh but of the Spirit (Ephesians 6:12) because God's plan is not done yet! He is working in and through us to get us back to His original and beautiful design of marriage.
What keeps you up at night? This one is a familiar question for most leaders. What makes you cry? What makes you mad? What are the things that nag at you? This question has to do with what you are passionate about.
What gets you up in the morning? This one is less familiar to most of us, but probably even more important. What keeps you and your team committed? Engaged and excited? This question has more to do with purpose.
Don't settle for just going through life enduring the five days of the workweek, to only have as your greatest goal of the week to make it to the weekend. Love what you do, or at least like it. It's too important not to.  Are you loving what you're doing?
As believers, as followers of Jesus, if we're not chasing after something that is so much bigger than we are, and there's no way we could ever accomplish it without God, then we are playing it too safe.  What is your God sized goal?
// from Brad Loemick
every time i hear or see this song i so tear up… it stirs my heart for every nation, every people, every person – to know how GREAT our God is!  His Kingdom Come!
love this new song from PASSION // WHITE FLAG – powerful lyrics
You came down from heavens throne
this earth you formed was not your home
love like this the world had never known
A crown of thorns to mock your name
forgiveness fell upon your face
love like this the world had never known
on the altar of your praise let there be no higher name
jesus son of god
you laid down your perfect life
you are the sacrifice
jesus son of god
you are jesus son of god
you took our sin
you bore our shame
you rose to life
you defeated the grave
love like this the world had never known
be lifted higher than all you've overcome
your name be louder than any other song
there is no power that can come against your love
the cross was enough