You are currently browsing the category archive for the 'call of God' category.
In 1985 Clarence Duncan arrived in Africa as missionary to the solidly Muslim people called the Yao who live mainly in Tanzania, Mozambique, and Malawi. When he settled in his village, he called for a meeting with the elders. After the pleasantries the chief asked him his name. Clarence replied, "Mr. Clarence."
The council looked at each other for a moment and then the chief asked, "Why are you here?"
Again Clarence simply said, "I want to tell your people about Isa Al Mahsi (Jesus the Messiah)."
A couple months later, when the chief decided he could trust Clarence, he said, "Do you know why we allowed you to stay?"
Clarence said, "I never thought about it."
"Twenty-one years ago a very old Yao man came to our village and called for a meeting as you did. When we asked him his name, this Yao man said, 'Mr. Clarence'—which isn't an African name at all! When we asked him why he came, he said, 'I want to tell your people about Isa Al Mahsi.' These were your very words. Twenty-one years ago Mr. Clarence led four of our villagers to follow Jesus. So we ran them out of the village. And we killed Mr. Clarence. The reason we allowed you to stay was we were afraid."
That was 1985. Two years ago on a January morning 24 Muslim elders approached Clarence Duncan's house. After a meal the leader sat in the middle of the room and said that they had come to ask questions about Christianity. Clarence said fine but that he would only answer them by reading from the Bible so they would know he did not invent the answers. So he gave each of them a Bible in the trade language. The first question was, "Why do you Christians say that there are three gods?"
Clarence said the answer was found in Deuteronomy 6:4 and gave them the page: "Hear, O Israel! The Lord is our God. The Lord is one!" And he mentioned that Isa (Jesus) said this very thing in Mark 12:29.
The questioning went on till five in the afternoon. When all had left, the leader, Sheik Abu Bakr, stayed and asked if he could see Clarence in a week.
When they met Abu asked if Clarence knew why they came to see him last week. Clarence said he assumed it was to ask questions. But Abu said, "No, it was because the Christian church is growing so fast we knew we had to kill you. We had consulted for three days and prepared our magic. You were to be struck dumb when we asked questions, then fall on the ground paralyzed and then die. But when you kept talking, and even stood up and moved around, we knew you had a stronger Spirit and gave up."
Then Abu said, "I want to become a Christian." And he told an amazing story.
"When I was a teenager, in our village we were not Muslim people and we were not Christian. We were Achewa people with our own religion. Behind our village was a hill where I would often go to pray.
"One day I was on that hill praying. Suddenly all around me was a blinding light. Out of this light I saw a big hand coming toward me holding an open book. I looked at the book and saw writing on the page. A Voice told me to read. I protested that I could not read, never having been to school. The Voice again told me to read. So I did. And suddenly the book and the hand disappeared.
"I ran back to my village and all the people were looking for me, thinking I had died on that hill! They asked about a fire they had seen up there. When I told them the story, they laughed at me saying, You can't read!
"Someone got a book and I began to read! Then people came from all around to find out more about what happened and asked questions. The Muslim authorities found out about me and I was trained in the ways of Islam. Soon all or our village became Muslim. For 15 years I was the greatest debater against the Christians."
He paused and then said, "You remember when I asked you the first question about why Christians believe in three gods? Your answer was Deuteronomy chapter 6, verse 4."
"That's right," Clarence said.
Sheik Abu Bakr looked Clarence Duncan in the eye and said, "That was the same passage that this Voice on the mountain showed me. At that moment I knew that the God you were talking about was the True God!"
"Then why did you keep asking me all those questions the whole day?"
"Because," he smiled, "I wanted all these Muslim leaders to know what the Christians believe and I wanted them to hear it from you. The whole day I pretended unbelief so that I could ask more questions. Now I want to become a Christian."
from https://www.desiringgod.org/messages/the-leading-of-the-lord-in-personal-evangelism
"There is no thing as secular employment for the believer. Once we are born again, everything about us is redeemed for Kingdom purposes. It is all spiritual. It is either a legitimate Kingdom expression, or we shouldn't be involved at all.
Every believer is in full time ministry – only a few have pulpits in sanctuaries. The rest have their pulpit in their areas of expertise and favour in the world system.
The call of God is important, not because of the title it carries, or doesn't carry. Its valuable because of the One who called us. An assignment to be in business is as valuable in the Kingdom as is the call to be an evangelist. The privilege to be a stay at home wife and mother is equal in importance to being a missionary. Embrace your call with the faithfulness and thankfulness worthy of the One who has called you." Bill Johnson – Dreaming With God
When you come to the realization that you were put on earth for His purpose, not your own, you'll realize that you were created so what He placed within you will come bursting out. You were never intended to be kept a secret. Seek to find the fire He ignites inside of your soul because when you do, you will be fully exposed — a living catalyst releasing His kingdom everywhere you go. – Bethel Worship
Do you want God to use you?
If you heart is to know God then of course your answer is yes. Great! Sometimes however discovering WHAT you "want to be when you grow up" (no matter what age or life accomplishment you are) can feel like a stressful, drawn out process of twists, reversals and contention!
Be encouraged – God calls us partners in the job of reaching the lost and establishing his church and that is something we can be doing right now, not just when we're grown up or working or anything like that. He created us to do stuff.
Ephesians 2:10  For we are God's handiwork, created in Christ Jesus to do good works,which God prepared in advance for us to do. Read the rest of this entry »
As good stewards of the manifold grace of God, each of you should use whatever gift he has received to serve one another. If anyone speaks, he should speak as one conveying the words of God. If anyone serves, he should serve with the strength God supplies, so that in all things God may be glorified through Jesus Christ, to whom be the glory and the power forever and ever. Amen.…  1 Peter 4:10-11
Imagine a world where everyone was the same?
It's not real.  It's not possible.
Imagine a song that was just one note.
Songs need melody, harmony, lows and highs.
God has uniquely created each one of us to play our own notes.
When we wish away our gifts and wish upon us the gifts and life of someone else we play someone elses note.  We reduce the song.  We reduce the creativity of God.
You are crafted by God to play your own song.
The world needs your song.  It needs what you give, what you contribute.
The world will never discover the beauty you have to offer if you dont.
Your gift is not just for you, expose it to the light and let it feed the world.
Let your song bring healing and hope.
Let your notes tell His story and your story.
Let your notes impart wisdom and grace.
Let your notes lead.
Let them serve.
Be part of the great symphony God has written.
There is no monotone in the kingdom of God.
"God-size dreams ensure our growth. When God calls us to something, it can feel awkward and uncomfortable, like someone handing us the wrong size in the dressing room. It gaps in strange places and pinches in others. We may find ourselves wanting to send it back for a more reasonably-sized dream, one that doesn't cause so much discomfort.
But that's a huge mistake.   God hands us an extra-large vision by design. He is not just interested in what we can accomplish for him, but in who we are becoming along the way. As we struggle to grow into what and who God calls us to do and be, we are changed and shaped more and more into the likeness of Christ."  Michael Hyatt
We are the dreamers of dreams.
The visionaries who live for the invisible of tomorrow.
The builders who create now for the future.
We are the dreamers who stretch into greater things, who push ourselves to do more and more importantly, become more.
Today is a glimpse into what I dream and what I dream to become and do.
As dreamers we must make each moment count.  Our whole life matters.  Dreams don't magically come true at the right time without the right preparation and cultivation.
Do you dream of being an author?  Then write, now, today.
Do you dream of being a missionary?  Learn and serve, now, today.
Do you dream of being a worship leader?  Practice and join the worship team.
Do you dream of being a preacher?  Write messages, now, today.
Take God's hand and run with His dream.  Put doing steps and substance to your dream.
Live for the invisible promise of what is to come and wrap preparation around it today.
I love reading about when God calls Jeremiah the prophet in Jeremiah 1.
He tells Jeremiah that before he was even born, before he was anyone, before he did anything, that God called him to be a prophet to the nation.  God then goes to to teach Jeremiah to see and to speak.  He shows him an almond branch and asks Jeremiah what he sees.  He unfolds the meaning of that branch to Jeremiah and then shows him further things and further insights.  God prepares Jeremiah.  He equips him.  He trains him.
Likewise, before we were born, God knew us and called us.  He destined us.  He wired us, on purpose with purpose.
And as He is the dream giver, He is also the dream fulfiller who unfolds step by step the growth process that shapes us to live out that dream.
My dream is in HIS hands.  He is faithful to complete the good work He has begun in my life.
I can trust Him with my dream and respond in faithfulness to grow to be who that dream needs me to become.
What is the lesson God is teaching you today?  
I adore this post!  I just had to share it and file it as it may pop up as an example in a message somewhere someday….
How to Carve Out Your Life's Passion – John Maxwell
Sculptor Ra Paulette has an unusual passion—he digs caves by hand and then turns his newly created spaces into works  of art. Using only a pickaxe, a scraper and a wheelbarrow, Paulette has been digging caves for nearly 30 years. His multiroom structures are remarkable; they are sculptures and art galleries in one. Filled with paintings, pools, skylights, furniture and waterfalls, Paulette's caves are redefining the way art can be experienced.
For the Academy Award-nominated documentary Cavedigger, director Jeffrey Karoff follows Paulette as he carves into the earth, one shovelful at a time. In the film—which you can find at CavediggerDocumentary.com—Paulette explains, "When I'm working on a project, I'm totally obsessed. I'm thinking about it all day long. All night long, I'm dreaming… digging dreams. Most people who are engaged in physical labor aren't having the fun that I'm having."
I can't say that I'd ever want to spend time digging in a cave, but I certainly admire Paulette. He has passion. He loves what he does, and he does it with exuberance.
When you think about or talk about your work , are you like Paulette? Does it consume you? Do you wake up excited about it? Do you go to sleep thinking about it? If not, your life may be missing an ingredient.
Paulette is 74 now and still digging caves. Recently I turned 68, and like Paulette, I am still on fire. While other people my age may be slowing down, I'm revving up. I wake up early, excited to meet the challenges of my day. I'm like a kid. Let me tell you something: You never have to drag a passionate person out of bed!
Sometimes, when God places a dream right in front of us, all we need to do is be bold enough to take the first step toward it. – Lindsay Greb McPhail
Dreamers, we must build.
We must prepare to live the dream.
We must take the first step, the next step.  Be in step with the Holy Spirit who is at work in you to finish what He has begun.
We must grow into who we are called to become.
Dreams don't develop in the comfort of waiting, they develop in the fire of intention.
Dreaming of becoming a worship leader?  Have singing lessons.  Upskill.  Join the worship team.
Dreaming of becoming a preacher?  Read preaching books.  Watch ted talks.  Write messages.
Dreaming of becoming a leader?  Volunteer.  Learn.  Listen to podcasts.
Dreaming of becoming a missionary?  Get a passport.
Be ready for that tomorrow.
Be ready for that opportunity.
Go the next level.
What are you doing today to prepare you for the dream?
2014 definitely ranks as one of the best years of my life.  in part it is to these wonderful guys and gals above in the photo – The SAS (Set Apart School) Students and pastors.  Set Apart has been my great love and passion for this year.
Set Apart is a one year course for school leavers heading to university education or university students moving on to start new jobs or launch their career.  It is like a gap year, with a part time course for young adults to be equipped and trained with great foundations for life – no matter where they are going next.  The course is split over 6 days with 2 days of class material and learning, 2 days of serving in the Kingdom of God and 2 days of part time work in the marketplace.  This ensures students are not just sitting in a classroom, but actually putting into practice new concepts as they learn them.
The course is divided into 8 different areas that cover every part of life including physical, emotional, mental and spiritual aspects.
Set Apart is designed to equip students in the same 8 areas of life that Daniel and his friends excelled in (Daniel 1:3-4) so that no matter where the King leads each one, His light can shine.  The 8 areas are: identity, physical, vision, presentation, learning, relationships, discernment and attitude.
This year I have done so many new things as a result of my involvement with SAS.  I have taught sessions on topics that were new to me too – speaking 3-6 times each term.  I have also written and marked all the assessments for each student.   I have been blessed to hear many phenomenal guest speakers, both church/ministry speakers and practical life skills (note taking, car maintenance, hospitality etc).  I have loved watching our students grow exponentially.   SAS fills my heart.
In 2015 we have deferred having students and will be working on getting the course govt accredited and prepared for relaunch in 2016.
Recently I got to watch a clip of a 12 year old boy give a speech in the Auckland speech finals.   His sister died in the Elim cannoning tragedy in 2008.  His speech was on legacy and the challenge to his audience was  What are you doing to leave a legacy?  He challenged us to make our lives count.
Life is more than breathing.  It's more than minecraft (shock), more than our friends, more than today.
You may think, yeah I'll think about that when I'm 21, when I'm a grown up, when I've got a job.  But today matters.  Today counts.  Today you are creating your legacy.
The greatest legacy we can leave is lives changed eternally.  To see His Kingdom Come.
DL Moody, a famous old dead guy who was a famous preacher and revivalist said ""The world has yet to see what God can do with a man fully consecrated to him. By God's help, I aim to be that man."
"The world has yet to see what God can do with a man or woman fully consecrated to him. By God's help, I aim to be that person."
That is the challenge that I throw down to each of you, to myself.   To know God and make Him known.
So how do we make that real in our lives?
When Jesus returned to Capernaum several days later, the news spread quickly that he was back home.  Soon the house where he was staying was so packed with visitors that there was no more room, even outside the door. While he was preaching God's word to them,  four men arrived carrying a paralyzed man on a mat.  They couldn't bring him to Jesus because of the crowd, so they dug a hole through the roof above his head. Then they lowered the man on his mat, right down in front of Jesus. Seeing their faith, Jesus said to the paralyzed man, "My child, your sins are forgiven."
 But some of the teachers of religious law who were sitting there thought to themselves,  "What is he saying? This is blasphemy! Only God can forgive sins!"
Jesus knew immediately what they were thinking, so he asked them, "Why do you question this in your hearts?  Is it easier to say to the paralyzed man 'Your sins are forgiven,' or 'Stand up, pick up your mat, and walk'?  So I will prove to you that the Son of Man has the authority on earth to forgive sins." Then Jesus turned to the paralyzed man and said,  "Stand up, pick up your mat, and go home!"
 And the man jumped up, grabbed his mat, and walked out through the stunned onlookers. They were all amazed and praised God, exclaiming, "We've never seen anything like this before!"  Mark 2:1-12
In this passage we see four men with radical faith, who created a legacy and made a difference.  They heard Jesus was in town and knew that Jesus was the answer their friend needed.   This was their one chance, their moment.
Their friend was paralysed.  He could not walk or move.  He could not get to Jesus himself.  He needed the deliberate intentional choices and actions of his friends to get Him to Jesus.
Who are you bringing?
Who are the paralysed people in your life?  They may not be confined to a wheel chair unable to walk or move, but there may be other areas that they stuck and paralysed in.  Loneliness.  Fear.  Rejection.  Depression.   Sin.
The paralyzed man had his whole life radically changed.  He could walk and run and dance for the first time.  And more importantly, his sins were forgiven.  His eternity was changed.   He knew that God loved him, rescued him and that God was real and amazing.  Heaven collided with earth.  It was more than just a story, it was more than just a good idea.  God did something so real and irrefutable, so big and spectacular that it blew the limitations that people had around God.
There is so much more possibility than we have seen before because Jesus is more amazing than we can dare, ask or imagine.  So lets dare, ask and imagine great things and see God exceed those things.
In my own story, before going to youth group I was paralyzed.  Just like that man.  I was stuck in the blackness of my life.  I didn't know who I was or what I was doing.  I didn't know what I was going to do with my life.
On the first night I was at youth group they sung a song – Don't you know that I love you, don't you know that my plans for you are good.  Look and see I've engraved you on the palms of my hands."
When God saved me it was like I walked for the first time.  In fact, at the end of the meeting I went outside and did cartwells and couldn't stop moving and talking and expressing the crazy happiness I felt on the inside!
I believe that as we bring people to Jesus we're going to see people get up and walk for the first time.  We're going to see the mess of people's lives collide with the majesty of God's grace.  We're going to see people set free and discover that they are created on purpose by a very real on purpose God.  You are going to see the amazing things that God can do through someone that says YES.  Someone who is consecrated and goes hard out to see His Kingdom come.
The people who know their God shall be strong and do exploits.  Dan 11:32
** this is my message at Collision Youth Camp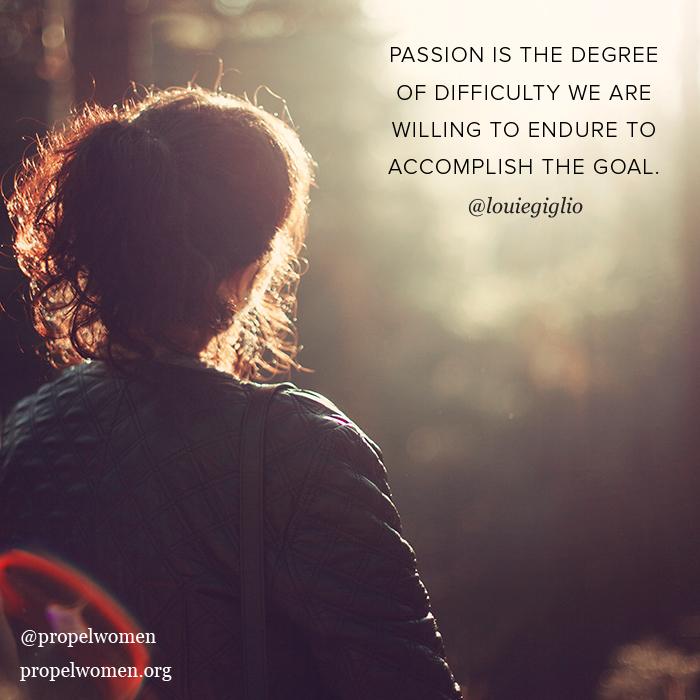 I am a big believer in living on purpose and with passion.  Our passion and purpose, the great WHY, must drive who we become and what we devote our time, energy, resources to.
My vision is to know God and make Him known.
I try to filter everything I do through that purpose and vision.   It is what gets me up out of bed.  It is what inspires me to be.  It is what has captured my focus.
Sometimes its not easy, not at all.  We forge through fire and charge head on at obstacles.  We make a stand and hold our ground.  We sweat.  We cry.  We bleed.  We fall.  But we arise and arise again.  Passion pushes us to move and keep going.   Purpose restores us.
Passivity may be an easy road but it does not satisfy.   Life is more than breathing.  More than our own personal comfort.   The challenges we face are worth it, both for ourselves and for those around us and those we directly influence and affect with what we are doing.
The world needs you.  It needs you to live your purpose.  God has wired us you and created you ON purpose for a purpose.  You are called to reach people that only you can reach.  You are called to demonstrate the reality and grace of our amazingly good God.  This may take you through treacherous waters and roaring flames, but again, it is worth it.   Knowing your purpose and living it with passion will keep the momentum of the mission moving, despite whatever obstacles you face.
 Don't you realize that in a race everyone runs, but only one person gets the prize? So run to win!  All athletes are disciplined in their training. They do it to win a prize that will fade away, but we do it for an eternal prize.  So I run with purpose in every step. I am not just shadowboxing.  I discipline my body like an athlete, training it to do what it should.  1 Corinthians 9:24-27
When your heart resonates with purpose the passion enables and sustains you to push through the circumstances and the grit necessary to see that come to pass.   When your heart is ablaze with vision the discipline required becomes part of the rhythm of how you live.
Will you take up the challenge?
Do you know your passion and purpose?