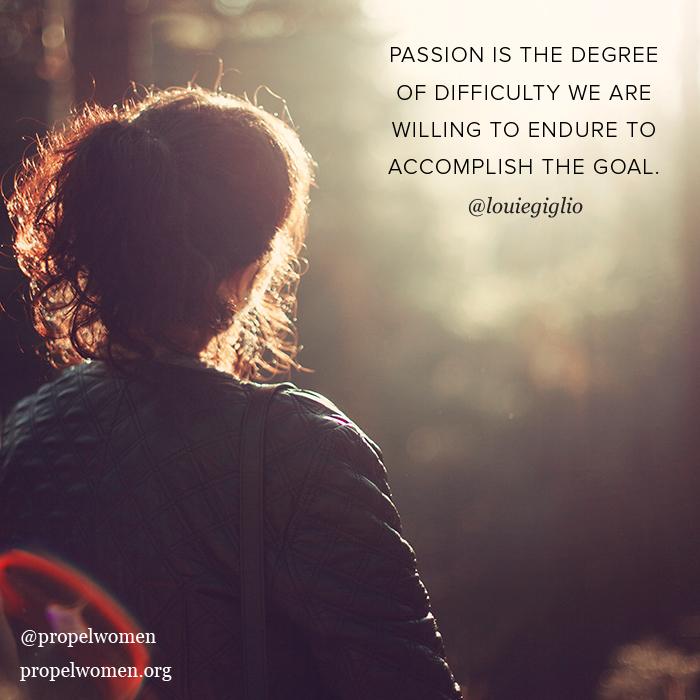 I am a big believer in living on purpose and with passion.  Our passion and purpose, the great WHY, must drive who we become and what we devote our time, energy, resources to.
My vision is to know God and make Him known.
I try to filter everything I do through that purpose and vision.   It is what gets me up out of bed.  It is what inspires me to be.  It is what has captured my focus.
Sometimes its not easy, not at all.  We forge through fire and charge head on at obstacles.  We make a stand and hold our ground.  We sweat.  We cry.  We bleed.  We fall.  But we arise and arise again.  Passion pushes us to move and keep going.   Purpose restores us.
Passivity may be an easy road but it does not satisfy.   Life is more than breathing.  More than our own personal comfort.   The challenges we face are worth it, both for ourselves and for those around us and those we directly influence and affect with what we are doing.
The world needs you.  It needs you to live your purpose.  God has wired us you and created you ON purpose for a purpose.  You are called to reach people that only you can reach.  You are called to demonstrate the reality and grace of our amazingly good God.  This may take you through treacherous waters and roaring flames, but again, it is worth it.   Knowing your purpose and living it with passion will keep the momentum of the mission moving, despite whatever obstacles you face.
 Don't you realize that in a race everyone runs, but only one person gets the prize? So run to win!  All athletes are disciplined in their training. They do it to win a prize that will fade away, but we do it for an eternal prize.  So I run with purpose in every step. I am not just shadowboxing.  I discipline my body like an athlete, training it to do what it should.  1 Corinthians 9:24-27
When your heart resonates with purpose the passion enables and sustains you to push through the circumstances and the grit necessary to see that come to pass.   When your heart is ablaze with vision the discipline required becomes part of the rhythm of how you live.
Will you take up the challenge?
Do you know your passion and purpose?