You are currently browsing the tag archive for the 'bethel' tag.
When we're living our lives with intentional gratitude we're fixing our eyes upon Jesus and agreeing YES He is good and YES He is faithful and YES He is Lord and YES He is the one who loves us!  Gratitude is an expression of faith.
Be joyful: Intentionally look around for measures of joy each day. There is joy in simply being alive and in being redeemed by God. Remember, joy is a choice we make, not a feeling we hope to get from our circumstances. It's good to look for the good, to celebrate it even in small ways. Doing so is a moment of victory.  Lysa TerKeurst
2230.  sunshine
2231.  this week is our young adults retreat!
2232.  the promises of God
2233.   our awesome church and awesome pastors
2234.  late night conversations with newbies
2235.  beach days and beach digs
2236.   accurate prophetic words that feed the spirit
2237.  youversion bible plans
2238.  my new kirby vacum cleaner, sent up on a truck from my parents….
2239.  taise
2240.   happy morning texts
2241.  praying for strangers
2242.  gluten free bread
2243.  teddy bears picnic at Mainly Music today!
2244.   in a week my parents have sold a house and brought a house
2245.  days off
2246.  up days
2247.  bravehearts
2248.  unexpected hugs
2249.  unexpected provision
2250.  came to my rescue and one thing remains.  such great songs.  great message.  great reality.
2251.  marmite on toast.  not for me, but for someone who loves it as much as i do.  good to give to those will appreciate.
2252.  praying out loud
2253.  details
2254.  psalms
2255.  bake sale
2256.  hearing how being at starship last week at the same time as a friend and her daughter, and us texting and praying together, so helped them both get thru the hard stuff
2257.  getting the last copy of Father of Lights dvd at the local christian bookstore!
2258.  35 cans of lift plus in the car… ready for the weekend retreat!
2259.  upcoming wedding and seeing how God has worked in their lives
2260.  the grace of God
2261.  waiting rooms and opportunties to talk and pray for strangers
2262.  feel inside and stuff like that.  still such a great song.
2263.  LOST
2264.  Revolution.  okay, just because of the LOST actors in it…
2265.  me and my son… both han solo – and fun times at the Light Party
2266.  The Holy Spirit speaking and at work @ the Best Housegroup in the World
2267.  my funny husband who puts up with my good days and my spaz days – who understands my *quirks* and loves me anyway… who is my best friend and pineapple hunter… love and so thankful!
"Too often I miss Him, oblivious, blind. I don't see all the good things that He is giving me, gracing me with, brushing my life with. True, He is everywhere, always. Before I thought of Him as further off, not so close. When I started to see all the things that I love bestowed upon me, I started to see Him as near, present, everywhere, showering me with good things. Seeing the things I love all around me gives me eyes to see that I am loved, that He loves me." Ann Voskamp
so there we go.  venturing on in life to 3000 things that i am grateful for…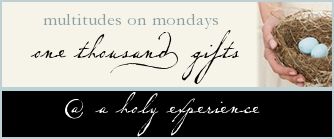 You will come like the rain
come Holy Spirit
Try praying this prayer in the midst of your struggles today, "God, I love you. I don't love this situation. But I love you. Therefore, I have everything I need to keep putting one foot in front of the other and walk through until I get to the other side of this." @ lysa terkeurst 
You will come, like the rain, today
whatever i face, You are here
Spirit of the living God, fall afresh on me
love this song on the new bethel live album FOR THE SAKE OF THE WORLD. 
all glory and all power is yours
Our Father in Heaven
we worship You
we draw near
i love this song – originally a hillsong one – but what a great version by bethel church!
great is His love
poured out for all
this is our God!
the other day – as soon as it was available really – i got the new bethel worship album THE LOFT SESSIONS from itunes.
its a more acoustic album, with some more eclectic instruments and beautiful beautiful melodies.  it feels like authentic worship – real people, drawing close to our real God. 
i really love brian johnsons voice and of course jenn johnsons voice too. but the neat thing is that it is a team collaborative, there are songs sung by other worship artists from bethel.  each has their own flavour and heart. 
i think my favourite songs so far on it are:
COME TO ME, which was actually released in december – at a significant time for our family – which has just so sung into my heart and reassured me of God's love and nearness, my strength in time of storms.   this song was the perfect answer to my hearts cry in our sorrow and listening to jenn johnson talk about the heart of the song – written for people who are facing difficult times – all around the world, be it personal tragedy or earthquakes or anything… God is with us… God is near… He invites us to Come.  my favourite bit is the part right at the end where she more free worships and it gets my heart every time.  this song will not leave my heart (or my playlist!) for a long time!
I am the Lord your God, I go before you now
I stand beside you, I'm all around you
Though you feel I'm far away, I'm closer than your breath
I am with you, more than you know
I am the Lord your peace, no evil will conquer you
Steady now your heart and mind, come into My rest
Oh, let your faith arise, lift up your weary head
I am with you wherever you go
Come to Me, I'm all you need. Come to Me, I'm everything
Come to Me, I'm all you need. Come to Me, I'm your everything
I am your anchor, in the wind and the waves
I am your steadfast, so don't be afraid
Though your heart and flesh may fail you, I'm your faithful strength
I am with you wherever you go
ONE THING REMAINS, which was also on the BE LIFTED HIGH album from last year… though i much prefer this version and can so see it been such in our housegroup, it so proclaims the everlasting love of God towards us! 
Your love never fails, never gives up never runs out on me
In death, In life, I'm confident and
Covered by, the power of Your great love
My debt is paid, there's nothing that
Can separate my heart from Your great love

WALK IN THE PROMISE – this line (In trust and dependence we walk in the promise of You, coming) reminds what its really about… Jesus.  His promise.  His kingdom.  it reminds me of a passage i read in 1 Peter 1 last night: "Praise be to the God and Father of our Lord Jesus Christ! In his great mercy he has given us new birth into a living hope through the resurrection of Jesus Christ from the dead,  and into an inheritance that can never perish, spoil or fade— kept in heaven for you, who through faith are shielded by God's power until the coming of the salvation that is ready to be revealed in the last time. In THIS (the hope of Jesus return and His glory) you greatly rejoice, though now for a little while you may have had to suffer grief in all kinds of trials."   There is just some great about declaring WE LIFT YOU UP in the midst of process and walking through and to something.  There is just something right about a song that encourages us to fix our eyes upon Jesus, not looking to the left or right, not giving up, not falling down, but holding on unswervingly to the hope we have in Christ our Lord and Saviour.
one of the songs i really like, but i don't know if i would categorize it as worship (i think is just totally my way of thinking) is YOU KNOW ME… for me its more a song to remind and rewrite in our heart how great the love of God towards is… its more introspective than i would classify a worship song to be…  reminds me very much of psalm 139…
You have been and You will be
You have seen and You will see
You know when I rise and when I fall
When I come or go You see it all
You hung the stars and you move the sea, and still You know me
You know me Nothing is hidden from Your sight Wherever I go, You find me
You know every detail of my life You are God and You

one that has totally grown on me is YOU HAVE WON ME.  i esp esp esp love the last part because i love songs that declare the gospel. 
Love, you've shown me love By leaving your throne
By bleeding and dying on a cross That wonderful cross
That took all my guilt and sin away
Shout it out and lift up one voice in worship
Sing it out until all the earth can hear it
Jesus is alive and He saves, He rescues and saves
i love new worship… it freshes my prayer time and worship time towards God.  its like ben reed's jedi mind trick with bible reading…
go on… download it… i dont think you'll be disappointed.
i'm blest to be a SAHM – that means during the school term my days are freer to do church stuff and also to pray and seek God and stuff.  but it also means that during the school hols i am in mummy mode, active mummying.  which i dont mind at all.  i love (most of the time!) playing with my short ones and seeing them discover and laugh.  it means i HAVE to go to movies like the muppets (which i think i had the most enjoyment out of) and HAVE to make cool snacks and build huts and forts in the lounge and go to the beach and build sandcastles.  HAVE to. 
but it also means my head space is different in holiday time. 
as the beginning of things like housegroup kick off my head space isnt prepared or planned. 
but as i was making dinner tonight i had a whisper drop into my heart.  its a year to dream and a year to see dreams fulfilled. 
in the background this song, i need you more by jesus culture was playing and it also resonated with me. 
i need you more Lord, right here in Your presence is where i belong.
I need You more
More than yesterday
I need You Lord
More than words can say
I need You more
Than ever before
I need You Lord
I need You Lord
More than the air I breathe
More than the song I sing
More than the next heartbeat
More than anything
And Lord as time goes by
I'll be by Your side
Cause I never want to go back
To my old life
Right here in Your presence
Is where I belong
This old broken heart
Has finally found a home
And I'll never be alone
a friend lent me this book.  i began crying in the DEDICATION.  never done that before.  i know the story already and am already amazed.  (okay that was YESTERDAY.  i finished the book last night… had to just keep reading.  such a powerful real honest authentic testimony.  i think everyone needs to read this book.)
But on May 21, 2008 their world was changed forever. One of their young daughters was hit by a car, driven by their 17-year-old son, in the driveway of their home. In the months that followed, Mary Beth struggled with understanding God's plan for her life and why their beautiful, full of life girl was taken from them.
In Choosing to SEE: A Journey of Struggle and Hope Mary Beth Chapman shares the story of her life and her struggle to find a new normal following the death of her daughter. This is an open and honest book that is full of laughter, sadness, faithfulness and the promises of God.
i love lost.  and love this blog about MY LOST MOMENT.  so i had to add my own lost moment to it…
really loving this album by hillsong united, not sure old it is but some of the songs have been popping up around the place at other worship things and i loved them. have ituned just selected songs (take heart, aftermath, bones etc) and they're JUST RIGHT NOW songs, songs for right now, speaking to my heart, and my heart speaking to God.
last night, or rather this morning at about 5am i woke up.  when i wake up in the night i often listen to sermons in attempt to fall asleep, that sounds bad eh, and to keep my mind occupied but resting.   this morning i listened to all of the first message in Mars Hill (Mark Driscoll) series called REAL MARRAIGE and it was good.  heart stretching.  eye opening.  real.  brutally honest.  convicting.  encouraging.  i think i have a good marriage but i want the best marriage i can.  and i know that marriage has pointed out in me lots of flaws.  and if we're not intentional in building then things can come unstuck.  this was near the end of the message and sums up what i want.  a testimony.  for the glory of God.
What's your testimony right now? Or is your life just a biography? "I did this, they did that, so we're stuck here." Or is your story actually God's story? "I did this, they did that, Jesus died, so we have hope, we have forgiveness, we have life, and we have Christ." And I'm not just talking in a theoretical, theological way. I'm talking in a day-by-day practical way. I'm talking in the integration of the living, resurrected Jesus Christ, the Lamb of God who takes away the sins of the world in the hard stuff of daily life; not just the ethereal, theological, theoretical, but the practical and the painful. That's a testimony.
Grace and I have a testimony. The biography was not great, but the testimony, though it's really hard for me, to be honest with you, because I like being a leader. I like being respected. But more than that, I like God to be glorified. And I can't be of any help to you unless I'm honest with you, and you can't be of any help to each other unless you're honest with each other.
And if we say that Jesus died for sin, but we don't talk about our sin, what we're saying is we don't really believe that his death was for us, and we don't believe that his resurrection is the hope for our new life together. We have a lot of hope for you. We tell you our testimony, not because that in and of itself would make a great book. It wouldn't. It would make a great horror film. But because you may be in a place that's not great, and what you don't need is another preacher and his wife just telling how everything is great, and if you buy their products, yours can be great, too. I think what you need is two repentant sinners to tell you that Jesus is the Lamb of God who takes away the sins of the world, and together with him, you can have a testimony, and to invite you to him together to have that testimony. If the story of your life and marriage was concluded right now, would it be one you'd be happy to have your great-grandchildren read? If not, then get Jesus involved and keep writing that story, by the grace of God.
We want you to have a testimony. Our testimony is that he's forgiven us of sin, and he's allowed us to forgive one another. I can tell you that there is no bitterness in our marriage, but there is Jesus. He's given us the Holy Spirit to live new lives. We're not loving one another with the love that we have. We're not serving one another with the power that we have, that the Holy Spirit really is God. He really is alive and well, and he really is alive and well in us, that Jesus really has been a perfect friend to us both, and so that perfect friendship is taken care of, and he's helping us to be better friends to one another.  Mark Driscoll – New Marriage, Same Spouse
today i downloaded THE LOFT SESSIONS by Bethel worship. its brand new today.  not even in america yet.  yay for been a kiwi.  so far i have loved every song!
Recorded live in a refurbished rustic loft, the Bethel Music team gathered friends and family for several nights of worship that set the stage for this ground-breaking recording.  The Loft Sessions explores new territory for Bethel Music, merging an array of acoustic creativity with the modern melodies of original songs by Brian and Jenn Johnson, Jeremy Riddle and emerging artists Steffany Frizzell, Hunter Thompson and Matt Stinton.  One of the standout tracks from The Loft Sessions, "Come To Me," was written by Jenn Johnson.  Seeing the news of earthquakes and other natural disasters happening all around the world, she wanted to know what God was saying through all the chaos.  Jenn heard the Lord saying, "You don't have to worry about anything, just come to me." Prolog Review
and as always.  i love Jesus with all i am and all my heart and all my soul and all my days. For His glory and the building of His kingdom and the rescue of the lost.
so what are you totally loving this week?
… check out what other peeps are loving whatever day of the week it is over at Paisley Jade
in your presence God, we find hope
in your presence we find life and love
all we need is found with you.
when i am with you i know you are with me
and i never walk alone
so i turn my eyes
towards you
gazing with trust and surrender
knowing you are with me and i am never alone
i walk not by sight but with faith in you
your presence gives me hope
your presence gives me peace
with you i am found and am complete and whole
in your presence God, i find all the answers
in your presence its okay not to know
i will trust you all my days
i will walk and obey
your presence gives me life and hope
it is where i know i belong
poem by me
we've just started singing this song at our church… and i'm so pleased!  its been a fav of mine since buying the cd last may.  i DO love His presence.  i DO love being His child.  i DO love Him.  this is a great song for my own quiet time.  even the musicality of it draws me to want to pray and worship, to stop and be still and to sit at His feet.   when i listen to the song, and pray with it and worship with it i DO feel peace and rest.  it reminds me of WHO God is… my Father in Heaven, the Prince of peace, my Saviour.  it reminds me that in His presence i find life and hope and peace and joy.  that He is my shield and my refuge and strength.  that when i am weary and heavy laden that i can come and find rest.  He is near and here.  I can boldly enter His throne room and find grace in my time of need.  I love His presence.  i am always amazed that we can FEEL Him… that He is personal and interactive.  That we are created for relationship.  I love Him so.
In the glory of Your presence
I find rest for my soul
In the depths of Your love
I find peace makes me whole
Chorus:
I love I love I love Your presence
I love I love I love Your presence
I love I love I love You Jesus
I love I love I love Your presence
Bridge:
If you want it come and get it for crying out loud
The love that I have given You was never a doubt
Let go of Your heart
Let go of Your head and feel it now