You are currently browsing the category archive for the 'Uncategorized' category.
"Only God's Spirit can change you into a child of God" John 3:6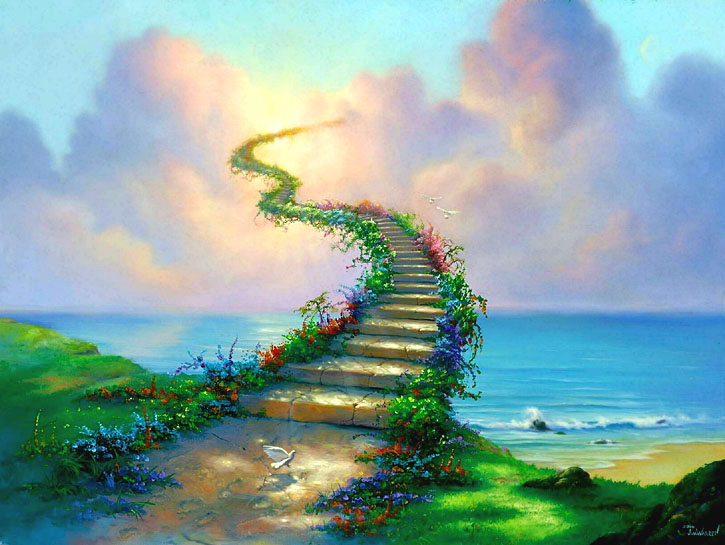 If I find in myself a desire which no experience in this world can satisfy, the most probable explanation is that I was made for another world…. Probably earthly pleasures were never made to satisfy it, but only to arouse it, to suggest the real thing. If that is so, I must take care, on the one hand, never to despise, or be unthankful for, these blessings, and on the other, never to mistake them for something else of which they are only a kind of copy, or echo, or mirage. I must keep alive in myself the desire for my true country, which I shall not find till after death; I must never let it get snowed under or turned aside; I must make it the main object of life to press on to that other country and to help others do the same. — C. S. Lewis from Mere Christianity
i read this quote and thought wow.  that so says it, better than i ever could.  we're made for eternity and we're made to know God.  without him we're looking and with him we're satisfied, but disatisfied, knowing there is more to come…  we have hope for eternity.
but the thing that strikes me so awesome about life, and knowing God is that knowing him isnt just about salvation for eternity – but it is about RELATIONSHIP right NOW!  its for living, for life, not just life after death.
now that is GOOD NEWS – God's love never fails. in fact the bible says it is EVERLASTING. God's love for each one of us is everlasting and personal and never fails.
"You must walk the path of temptation." Molinos from 100 Days in the Secret Place
An interesting quote isn't it. We must walk the path of temptation. Most would say flee from temptation – but to do that first we must face temptation. Though we pray in the Lord's prayer "lead us from temptation and deliver us from evil" we learn from facing and overcoming temptations. We learn obedience. We learn surrender. We learn to be led by the Holy Spirit within us, who is transforming us into the character of God.
Jesus was tempted.
Luke 4:13 And when the Devil had ended every temptation, he departed from Him for a time.
Hebrews 2:18 For in that He Himself has suffered, having been tempted, He is able to rescue those who are being tempted.
Jesus was tempted, not only by the devil in a determined pattern of distraction and attack, but throughout life, because Jesus was human. Because of that he has full understanding of what it feels to be tempted and is the one to run to in our time of trial.
What is the purpose of temptation? Does it have a purpose???
I do think God uses temptation for a purpose. Does he tempt us? No.
James 1:13 Let no one being tempted say, I am tempted from God. For God is not tempted by evils, and He tempts no one. But each one is tempted by his lusts, being drawn away and seduced by them.
But He uses all things together for good for His purposes and glory. So thus God uses temptation. Temptation is a fire that refines us. It shows us our weaknesses so we can cast them upon God and draw upon His mercy, grace and strength. It allows the work of Grace to be wrought within us.
Temptation comes from within us. It is the fleshly desires we have for things. Be it another person, something we don't have, power, to react just as we want to, to lie – to whatever.
The good thing is we are not alone in facing temptation. As said above Jesus is with us. So too should our friends. We ALL go through temptation. Be honest with each other and support those who need support.
The other and the most good thing is that God makes a way to escape. He delivers us from temptation. We must take HIS road, HIS way. Sometimes that will be to flee, to remove ourselves from that place (ie nightclub, boys bedroom, shop etc) Other times it will be to talk with someone and share the burden and with the grace and help of God tough it through (so to speak).
1 Corinthians 10:13 No temptation has taken you but what is common to man; but God is faithful, who will not allow you to be tempted above what you are able, but with the temptation also will make a way to escape, so that you may be able to bear it.
James 1:12 Blessed is the man who endures temptation, because having been approved, he will receive the crown of life which the Lord has promised to those who love Him.
2 Peter 2:9 The Lord knows how to deliver the godly out of temptation
Now I am NOT SUGGESTION we deliberatily put ourselves in harms way (in temptations way). But temptation will happen in the course of normal life. Dont go looking for trouble. Dont go looking for temptation. Keep living a life walking to please God.
2 Timothy 2:20 But in a great house there are not only vessels of gold and of silver, but also of wood and of earth; and some to honor, and some to dishonor. Therefore if anyone purges himself from these, he shall be a vessel to honor, sanctified and useful to the Master, prepared for every good work. But flee youthful lusts, and follow righteousness, faith, love, peace, with those who call on the Lord out of a pure heart.
So where does this fit in the 100 Days series… we are studying the "way of the cross", embracing the changes and the path of change that God outworks in our lives. We must walk the path of temptation and allow it to transform us. We must walk a close walk with God, drawing near to Him.
"God loves not the believer who does the most, now who feels the most, now who thinks the most cleverly and best, nor even one who shows the greatest love, but He loves him who suffers the most.
God is impressed with the purity of the intent of your heart. He wishes to see the inward part of you humbled, quiet and totally surrendered to Him and His will, whatever it may be. You may not find emotions to produce such a relationship, but you will find a door by which you will enter into your nothingness and His ALL."
Molinos from 100 Days in the Secret Place
I would just like to begin by saying that God wants your inward part to be strengthened and formed into the character of Jesus. He wants us to know Him more and make Him known more.
What does our suffering show? It shows our commitment no matter what, our trust in God no matter what, that we do believe WHO He is, and that we have surrendered all to Him for His glory and good purposes. When we suffer and suffer "well" we area allowing God to transform us and who that we will let Him lead us and recognize that He does know us more than we know ourselves and that we are just flesh, weak with weaknesses and that God knows the perfect path for our lives.
God is not sadistic. We do not suffer for the sake of a cruel joke.
We suffer in the painful experiences of our lives. We suffer in the loneliness and insecurities. We suffer in the sicknesses we bear. We suffer in the sickness our friends and family bear. We suffer in the relationship difficulties and in the kids that go astray. We suffer in the discouragement and disappointment we feel. We suffer as we try to temper our pride, anger, envy, lust, unforgiveness. We suffer in the loss of friends and family to death or broken relationshps. We suffer in prayers that don't get answered the way we want. Paul suffered in beatings, shipwreckness, homelessness, starvation, persecutions. Most of us don't get that opportunity. Most of our sufferings could be labeled insignificant – BUT they are NOT – they are what we feel and go through and are the path that God takes us to know Him and trust Him more and be transformed.
It would be nice if there was a super switch at salvation that made us pure and righteous ON THE OUTSIDE all at once. We are made righteous and pure in our spirit by the righteousness and purity of Jesus – but this needs to outwork from inside out.
The path of painful experience (suffering) is partnered with the action of surrender and trust. We trust God to care for us and deliver us and shelter us. We trust that God is for us (in the bigger picture, not our selfish self desires! Not the easy path) and at work in every part of our lives. We trsut that God knows how much we can bear. We trust that God is able and mighty to save. And so we act out our trust with surrender and "yes God".
I am not saying we cant cry and pray hard and honestly with God about what we are going through. David did it all the time. I'm not saying we should paint a smile on and get a tshirt saying "yay I'm suffer-ing 4 The Lord" and that everything is butterflies and daisies. Part of the learning in suffering is how to pray and how to persist and how to seek and find. Part of the learning of suffering is to hear from God in the hard times.
"When a man sets out of a journey to a great city, every step he takes is volunatary; he does not need to say, "I wish to go to the grat city, I wish to go to the great city." That first step is an inciation of his intention. He journeys without saying it, but he cannot journey without intending it."Molinos from 100 Days in the Secret Place
This resonates within me. I often say that "God you know my heart." Not in the clich?excuse-ladden way that that phrase can be used but meaning – God, you know who I am, my desire is for you, and I want to do your will… every step God I want to honour you and love you and obey you, even though my circumstances and my actions may fall flat…" There are times when we look at our life and think that it doesn't reflect our heart desire. There are times when the circumstances don't seem to make sense in regard to the end result we dream for. Remember, who is the author of our faith and our life. God. Who has written all the days of our lives before they occur? God. Even in the daily cirucmstances and occupations we do God is at work to transform and use us. There is not one day when God's loving hand is upon us. No day is wasted in the grand plan of God.
Life is a journey. Becoming a better mother is a journey. Becoming a better wife is a journey. Becoming a better preacher, communicator, writer, editor is a journey.
Let us set our eyes upon God and walk forward. God orders the steps of his children. His Word guides our feet. Let us be people who consider the end desitination and determine to follow God as He leads, and live the journey.
"You will never attain to the mountain of internal peace If you govern yourself according to your own will. This self nature of your soul must be conquered. Your directions, your judgement, your disposition to rebel must be subjected and reduced to ashes. How? In the fire of obedience, for it is there that you will find out if you are truly a follower of Divine love or self love.
One of God's servants once said:
It would be better that you gather dung by obedience than be caught up into the third heaven by your own will.
What is true obedience? Obedience, to be perfect, must be voluntary; it must be pure and cheerful. But most of all it must be internal. I would add that it must also be blind and preserving.
Molinos from 100 Days in the Secret Place
I'm back at "the way of the cross". (This is a section in 100 days In The Secret Place) Back to exposing the things that hinder us from closer intimacy with God. Back to looking inside and upward at the same time. Naval gazing I don't think is the healthiest thing. But from time to time it is good to reflect and examine our motivations, our weaknesses… to look at the journey we are on with God – but from the perspective of allowing God to shape and transform us, for His purpose and His glory.
Obedience isn't some mysterious thing. It is saying "Yes" to the things God asks us. They may be things from The Bible. They may be more direct and personal things that God asks of us… to go here… to serve there… to give this… to not do that… to read this… to sacrifice that… Sometimes obedience doesn't make sense… well not to our eyes, or the eyes of those around us. But to God who knows our steps and the perfect path to walk… it makes perfect sense and is part of the jigsaw of our life…
Obedience can be painful. Obedience can strike at the heart of the things we want to hold onto the most. It can cause us to walk in a direction we hadn't planned on, and maybe even don't want to. Obedience can put you in a circumstance and place that stretches your heart and faith.
But obedience has a reward. Intimacy with God. Obedience I believe does please God.
1 John 2:5-65 But those who obey God's word truly show how completely they love him. That is how we know we are living in him. 6 Those who say they live in God should live their lives as Jesus did.
Though obedience is not the easy road it should be the road we set our face to. By the grace of God and His strength in us can we practice obedience. It isnt by heartless works, but by heart felt devotion and surrender to do the will of God. I think the rule of 1 Corinthians 13 applies with obedience. I could follow to the letter the commands of the Bible and the leading of the Holy Spirit but if i have no love for God and His ways then my obedience is more works than obedience. I obey as a response to the love and grace of God, not to earn the love and grace of God. My obedience doesnt win favour in that way… it more pleases a Fathers heart, as do my childrens obedince to me. My obedince is an expression and demonstration of my love.
Obedience is an exprsesion of my faith. I believe and trust in God, therefore i obey Him and go where He leads and do what He says.
As i have said, obedience is not necessarily easy. We can take courage and encouragement from those who have gone before us… those in the bible and those around us… i myself am inspired by the testimony written in Hebrews 11 – not just the "big names" who obeyed the leading of God, but those whose road of obedience led to death, sacrifice… lives lived in surrender to God…
Hebrews 11:6 "And it is impossible to please God without faith. Anyone who wants to come to him must believe that God exists and that he rewards those who sincerely seek him. 7 It was by faith that Noah built a large boat to save his family from the flood. He obeyed God, who warned him about things that had never happened before. By his faith Noah condemned the rest of the world, and he received the righteousness that comes by faith. 8 It was by faith that Abraham obeyed when God called him to leave home and go to another land that God would give him as his inheritance. He went without knowing where he was going. 9 And even when he reached the land God promised him, he lived there by faith—for he was like a foreigner, living in tents. And so did Isaac and Jacob, who inherited the same promise. 10 Abraham was confidently looking forward to a city with eternal foundations, a city designed and built by God… 17 It was by faith that Abraham offered Isaac as a sacrifice when God was testing him. Abraham, who had received God's promises, was ready to sacrifice his only son, Isaac, 18 even though God had told him, "Isaac is the son through whom your descendants will be counted."[c] 19 Abraham reasoned that if Isaac died, God was able to bring him back to life again. And in a sense, Abraham did receive his son back from the dead…. 24 It was by faith that Moses, when he grew up, refused to be called the son of Pharaoh's daughter. 25 He chose to share the oppression of God's people instead of enjoying the fleeting pleasures of sin. 26 He thought it was better to suffer for the sake of Christ than to own the treasures of Egypt, for he was looking ahead to his great reward. 27 It was by faith that Moses left the land of Egypt, not fearing the king's anger. He kept right on going because he kept his eyes on the one who is invisible. 28 It was by faith that Moses commanded the people of Israel to keep the Passover and to sprinkle blood on the doorposts so that the angel of death would not kill their firstborn sons… 30 It was by faith that the people of Israel marched around Jericho for seven days, and the walls came crashing down. 31 It was by faith that Rahab the prostitute was not destroyed with the people in her city who refused to obey God. For she had given a friendly welcome to the spies. 32 How much more do I need to say? It would take too long to recount the stories of the faith of Gideon, Barak, Samson, Jephthah, David, Samuel, and all the prophets. 33 By faith these people overthrew kingdoms, ruled with justice, and received what God had promised them. They shut the mouths of lions, 34 quenched the flames of fire, and escaped death by the edge of the sword. Their weakness was turned to strength. They became strong in battle and put whole armies to flight. 35 Women received their loved ones back again from death. But others were tortured, refusing to turn from God in order to be set free. They placed their hope in a better life after the resurrection. 36 Some were jeered at, and their backs were cut open with whips. Others were chained in prisons. 37 Some died by stoning, some were sawed in half,[d] and others were killed with the sword. Some went about wearing skins of sheep and goats, destitute and oppressed and mistreated. 38 They were too good for this world, wandering over deserts and mountains, hiding in caves and holes in the ground."
Luke 11:28 Jesus said, "happy are those who hear the word of God and obey it!"
"Two things must be discovered; the greatness of God and the vastness of the devastation of the fall as pertaining to your own soul. It is an understanding so vast that no tongue can express it. From this revelation proceeds a glimpse of the grace of God… a grace which takes pleasure in encompassing that person with the pure goodness of God."
Molinos
Its been a few days since I've posted a 100 days post, just due to a long weekend spent mostly with family.. So we continue on the journey today which I think can be summed up in the statement above by Molinos. To surrender afresh and undergo this life transformation that we are all called to we must recognize our need and also the greatness of God, knowing WHO He is and how He loves us and works in our life.
We could go on the road of refinement with our eyes fixed firmly on our sins and weaknesses – but we would walk eyes downcast and focused on our naval… which is not healthy per such. Nor does such eyes on self achieve the glorious transformation that God desires with this process. We see what WE want to see and depreciate ourselves, which can lead to discouragement and disappointment.
We need to keep eyes on God, our Father, who loves us and knows us. This gives us hope when the day gets dark. This gives us courage when the discouragement threatens.
This is something we cant manufacture or fake till we make it. It comes with the grace and surrender to God.
"You must be patient in all the suffering that God sends you. If your love for hte Lord is pure, you will love Him as much on Calvary as on Mt Tabor. The Lord Jseus loved His Father on Mt Tabor where He was transfigured, but He loved Him no less on Calvary where He was crucified. Surely then, you should love the Lord as much on Calvary, for it was there that he made the greatest display of His love.
You must learn to love the cross. He who does not love the cross does not love the things of God. (see matthew 16:23) It is impossible for you to truly love the Lord without loving the cross. The believer who loves the cross finds that even the bitterest things that come his way are sweet. The Bible says "To the hungry soul every bitter thing is sweet" (Proverbs 27:7b)
How much do you desire to hunger after God. You will hunger after God and find Him, in the same proportion that you hunger after the cross.
Here is a true spiritual principal that the Lord will not deny: God gives us the cross, and then the cross gives us God."
Jeanne Guyon from 100 Days in the Secret Place
Humans are fickle creatures. We are kind to those who are kind to us. We love those who love us. We shun those who shun us.
We can often utalize those fallen human traits in our relationship with God. If God is nice to us we will return the "favour" with devotion and worship. If God seems to be disaplining us we turn our nose up and turn away…
Does this seem right???
We should, as Madam Guyon encourages us, instead love God ALL the time, during the mountain top seasons and the desert seasons. We should love God as He showers on us blessings – and we should love God as He washes all the crud out of our lives. Transformation is not an easy process. Often it is accompained by painful circumstances and situations that try us and refine us. It is not all joy and transfiguration. It is a process of denying ourselves, taking up our cross and following Jesus.
We should in these times embrace God all the more.
Our desire is to know God right… to be in relationship with Him… right? Right. Therefore let us be nt fickle in our devotion, but hungry for God and embracing His ways.
Isaiah 55:8-9 For My thoughts are not your thoughts, nor your ways My ways, says Jehovah. For as the heavens are higher than the earth, so are My ways higher than your ways, and My thoughts than your thoughts.
God is good. He works all things together for GOOD for His purposes and plans. His plans and purposes towards us are good. We can trust Him. No matter what. We can trust Him. He loves us.
"My God, I want to give myself to You. Give me the courage to do this. My spirit within me sighs after You. Strengthen my will. Take me. If I don't have the strength to give You everything, then draw me by the sweetness of Your love. Lord, who do I belong to, if not to you? What a horror to belong to myself and to my passions. Help me to find all my happiness in You, for there is no happiness outside of You.
Why am I afraid to break out of my chains? Do the things of this world mean more to me than You? Am I afraid to give myself to You? What a mistake! It is not even I who would give myself to You, but You would give Yourself to me. Take my heart.
What joy it is to be with You, to be quiet so that I might hear Your voice! Oh God, You only make me love You. Why should I fear to give You everything and draw close to You? To be left to the world is more frightening than this! Your mercy can overcome any obstacle. I am unworthy of You, but I can become a miracle of Your grace."
Fenelon from 100 Days In The Secret Place
I like this prayer. It echoes my heart. I want to know God. I want to unreservedly give myself to Him, no holding back. Yet I hold back. Why? Fear of failing. False expectations of self. Selfishness. I don't know. God does. I like this prayer because it shows me that it is God who draws and if my heart says Yes then God is able to draw me closer. I know it isn't bound by anything I do or say, or can do or can be. I know my working hard wont get me there or give me more favour with God. From the inside out I want to know God and be known by Him. I want to hear more, love more, obey more. Take me God. I am appalled at my own heart and actions. Yet I don't want this to be my motivation – but I still do want to hide in you to escape the uglyness of me. I know you are the only one that can transform me. I can be a miracle of your grace. I pray that this year will be new and that each day I will be drawn closer to you. And that each day I will respond to the drawings you make. Let me see you. Overlook the impurities of my heart, the unworthiness.
Lord, show me who you are.  show me your face.  thank you that you do reveal youself to us, though we are just human.  thank you that you call me your child.  that makes all the difference.  i surrender to you.  i say it and i try to live it.  i surrender.  work in me.  shape me.  continue and complete what you have begun.  i am yours and i want to be yours wholeheartedly.