You are currently browsing the monthly archive for August 2012.
And I will harden Pharaoh's heart, and he will pursue them. But I will gain glory for myself through Pharaoh and all his army, and the Egyptians will know that I am the Lord." So the Israelites did this. Exodus 14:4
i think this was also a lesson so that the ISRAELITES knew that God was the Lord, mighty and powerful!  only a few verses down the israelites are saying:  "Was it because there were no graves in Egypt that you brought us to the desert to die? What have you done to us by bringing us out of Egypt? Didn't we say to you in Egypt, 'Leave us alone; let us serve the Egyptians'? It would have been better for us to serve the Egyptians than to die in the desert!"  Exodus 14:11-12
sometimes i think the experiences we go through are to teach us to trust.  how often do we find ourselves facing a crisis and we freak out instead of responding with trust and faith?  God used the Red Sea to teach the people that He was their deliverer and saviour.  He used it to demonstrate His mighty power. 
Trust in the LORD with all your heart and lean not on your own understanding; in all your ways acknowledge him, and he will make your paths straight. Proverbs 3:5-6
Do not be anxious about anything, but in everything, by prayer and petition, with thanksgiving, present your requests to God. And the peace of God, which transcends all understanding, will guard your hearts and your minds in Christ Jesus.  Philippians 4:6-7
Cast all your anxiety on him because he cares for you. 1 Peter 5:7
So do not fear, for I am with you; do not be dismayed, for I am your God. I will strengthen you and help you; I will uphold you with my righteous right hand. Isaiah 41:10
i can trust in God.
He is trustworthy.
though sometimes things dont go to MY plan, HE has a plan and is at work on my behalf.
i am confident of His love and goodness.
i am confident that He is my Father.
when faced with fear i CHOOSE to trust God.
i STOP, BREATHE and REMIND MYSELF OF THE PROMISES OF GOD.
His Word is faithful.
His promises can be trusted.
He is always at work.
i counter FEAR with faith.
faith that is grounded in the Word of God and His promises.  not blind faith but faith that has facts and basis.
i live not by sight but by faith in God.
Nothing is impossible for God – the same God that split the Red Sea is at work in your life! reading exodus 14 so makes me trust God – He moves in intervening and awesome ways – unexpected and extraordinary ways!
"You will never get past your fears until you are willing to face them head on—period! And…as long as the enemy controls you through fear you will not be fully surrendered to Jesus!" Perry Noble
next time we face an obstacle, instead of freaking out, how about we trust, and stop and breathe and remind ourselves of the promises of God.
as humans its like we're hardwired to want to go from A to B the shortest way possible. but sometimes that isn't the best route to go. sometimes we need to take detours and go the scenic route. its better for our character and our strength and our relationship with God.  sometimes its better we change.
God loves us too much to take us through the short cut. He knows we might see what's required and go back to where we started. So sometimes He takes us on a detour. Jon Acuff
i am so glad that God promises in Philippians 1:6 that He will complete the good work He has begun in us.
He will finish the change.
The process is in His hands.
My part in the change is to say YES. 
to surrender.
to lay my life down into His will and ways.
He knows that is required and the best way to complete the transformation.
YES is my response, every day, every moment, every week.
YES i will believe.  YES i will trust.
its just like olypmic athletes.  the difference between an olympic marathon runner and a runner is that the olympic contender has done the hard yards and disciplined himself or herself to go the distance and to increase in strength and stamina no matter what the cost and the pain.  they are disciplined, dedicated and devoted.   the olympic athlete has made the necessary changes in their life to hone their body and skill to maximise performance. an ordinary runner becomes extraordinary.
it will hurt.  it will take time.
it will cost.
there are easier options.
it requires sacrifice and will power, determination and guts.
change takes effort. and grace. 
the motivation comes from knowing you're not living just for yourself but living to know and make known an amazing awesome mighty God and that He has a plan and a purpose for our lives
perspective gives us courage to press in and press on, to get past the burn
what I do today will determine who I am tomorrow
what i allow God to change will determine who i am tomorrow
YES is my response, every day, every moment, every week.
YES i will believe.  YES i will trust.
change can be hard.  okay, change IS hard.
i'm so glad for the invitation to come and find rest, amidst the chaos of transformation
Matthew 11:28-30 "Come to Me, all you who labor and are heavy laden, and I will give you rest. Take My yoke upon you and learn from Me, for I am gentle and lowly in heart, and you will find rest for your souls. For My yoke is easy and My burden is light."
the great things God will do through you are going to grow in the soil of persistence, prayer, obedience and sacrifice. that means there will be plenty of plowing and pruning. that is the way living things grow, whether you're talking about vegetables or vision. steven furtick
#FiveMinuteFriday free write time! <—click to tweet this!
Five Minute Friday is a feature over at Lisa-Jo Bakers TALES FROM A GYPSY MAMA blog.  i first read about it on my friend Fee's blog and thought it sounded fun!
1. Write for 5 minutes flat – no editing, no over thinking, no backtracking.
2. Link back here and invite others to join in.
3. And then absolutely, no ifs, ands or buts about it, you need to visit the person who linked up before you & encourage them in their comments. Seriously. That is, like, the rule. And the fun. And the heart of this community..
OK, are you ready?
When we're living our lives with intentional gratitude we're fixing our eyes upon Jesus and agreeing YES He is good and YES He is faithful and YES He is Lord and YES He is the one who loves us!  Gratitude is an expression of faith.
Be joyful: Intentionally look around for measures of joy each day. There is joy in simply being alive and in being redeemed by God. Remember, joy is a choice we make, not a feeling we hope to get from our circumstances. It's good to look for the good, to celebrate it even in small ways. Doing so is a moment of victory.  Lysa TerKeurst
2162.  i so love my kids and antonio!
2163.  i won again!  this time i won 3 months premium account on spotify.  if you dont know what spotify is… its kinda a radio station but on your computer, and you can choose what and who you listen to.  its awesome!  is a great opp to discover new music too, like free chapel and citipointe
2164.  secret things happening at school for Rm12's art exhibition next week…
2165.  advice and wisdom
2166.  these GF cookies.  amazing.  instead of using nutella (since we have me and my daughter with nut allergies) i used sweet william choc spread which is dairy and nut free.  amazing.
2167.  the first of august
2168.  we celebrated my MIL 70th birthday earlier in the month at a lovely local restaurant, who catered specially for me, adding to the wonderfulness of the night
2169.  new friends
2170.  people excited about the Holy Spirit
2171.  turkish delight hot chocolate
2172.  the coffee club VIP membership
2173.  the grace of God
2174.  unexpected encouragement.  when i preach i'm blest that people who know me know i am a words of affirmation chick and come and encourage me afterwards, but last week, a week after preaching on sunday morning on the parable of the net (and DONT GIVE UP / galatians 6:9) a man whom i didnt know (he comes semi regularly with his wife) came up and said how blown away and inspired and encouraged by what i had shared.  so amazed and humbled.  feel so incredibly blest to be used by God and very aware of the priv it is to share and speak.
2175.  my sons heart.  there's just so something about him.
2176.  planning my hubbys 40th.  which is over a year away
2177.  planning christmas away in the south island.  which is creeping up closer
2178.  opportunity knocks
2179.  good public medical care
2180.  cetaphil
2181.  psalm 63
2182.  podcasts.  esp christine caine's at the moment – she so rocks and is inspiring!  she's speaking at Sista's Conf this year… think i'll so have to go to the night stuff!
2183.  our own church is having a Conference!!!! excited much!
2184.  my daughters 7th birthday.  she is delightful
2185.  my hubbys birthday the next day.  so love that man.
2186.  good family together time
2189.   four birthdays, four cakes, four songs, four candle blowing out times
2190.  progress with the allergist and dietican
2191.  sunshine
2192.  school adventures and field trips
2193.  google and the easy reach to find information
2194.  opportunity – i'm preaching on the 2nd sept (this weekend!)
2195.  holistic hair shampoo and conditioner
"Too often I miss Him, oblivious, blind. I don't see all the good things that He is giving me, gracing me with, brushing my life with. True, He is everywhere, always. Before I thought of Him as further off, not so close. When I started to see all the things that I love bestowed upon me, I started to see Him as near, present, everywhere, showering me with good things. Seeing the things I love all around me gives me eyes to see that I am loved, that He loves me." Ann Voskamp
so there we go.  venturing on in life to 3000 things that i am grateful for…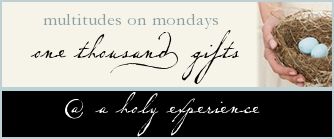 this is one of the funniest and sweetest things i've seen in a while… love flight of the conchords but love them even more now as they chat to kids about cure kids (charity) and write a song… brilliance!
on my journey in discovering the allergies and sensitiveness i have i have discovered, out of necessity, a new shampoo and conditioner…  Holistic Hair smells amazing, feels amazing and i think is seriously one of the best shampoo/conditioners i have used, and i have a hairdresser for a sister.  and better still has cleared up my scalp from eczema and other nasties! 
evangeline has the best ballet teacher in the world.  seriously. 
on Mondays i have a semi food dilemma.   my son has rugby practice until 4.15 and usually comes home muddy as.  so its home and sort everything else and try to manage dinner.  so a few months ago, near the start of the season, after some dinner disasters i started using the slower cooker to cook amazing global cuisine Tuscan beef casserole.  amazing.  but this month i'm on a low salicylate  diet so no spices or seasoning or sauce.  so today i cooked a chicken in my slow cooker.  just add chicken.  that's it.  no water, no oil, no spices, no nothing, no rack (like in the picture).  just chicken.  i browned it off under the grill at the end and wow.  tender.  soft.  delish.  a hit!
and as always.  i love Jesus with all i am and all my heart and all my soul and all my days. For His glory and the building of His kingdom and the rescue of the lost.
so what are you totally loving this week?
… check out what other peeps are loving whatever day of the week it is over at MNM's BLOG
The enemy will not see you vanish into God's company without an effort to reclaim you
C.S.Lewis
.
well i went back to my lovely specialists this week to see if they had discovered more from my latest blood tests about the allergies i am battling.
unfortunately the really specialist tests they are doing haven't come back so i am still in a discovery restriction mode.
in fact
the dietician recommended going on a one month trial salicylate free diet.
a what?
basically the list of what i can eat has got way smaller and the list of what i cant has got huger.
things that are my go to food like broccoli, cauli, corn, capsicum, green tea, coke, any fizzy, orange juice, spicy food, spices etc are off the menu
salt is my only flavouring allowed.  no spices.  no sauces.
plain food.  peas, potatoes, iceburg lettuce, mung beans, bamboo shoots are on my yes list.  i confess i dont know what to do with the latter two!
cheese, milk, soy, meat and bread (with butter only or cheese) are fine.
really no flavoured drinks and pears, peeled, are one of the only fruits i can have.
for a month.
some of the things that are on the list of can haves i cant have because of existing allergies, like eggs and nuts.
and i have to confess, i dont like peas.  and i love spring salads.
all the meals i worked out for the family to eat, GF, i cant have because they are saucy and flavoursome.
but have drawn up a meal plan – a sanity plan – to plan the week ahead of meals, that makes it work for the activities we have and the food we can eat.  i will cook "normal" meals for the family and then a bit of plain meat for myself and plain things.  i'll make it work and see what happens.
oh and the connection with the picture above… we had a bag of pineapple lumps in the house.  i ate them all on thursday and started my SF diet on friday…
The people kept their distance while Moses approached the thick cloud where God was.  Exodus 20:21 MSG
Moses was the rare individual that would not settle for knowing the acts of God but he desired to know His ways. While there are many who will stand at the bottom of the mount wanting someone else to climb the mountain to meet with God and relay the information. There are few who will climb-(exert effort), press past fear and preconceived notions and disappear behind the cloud. It is there that a man meets God. All were invited but only one ascended. Only one who came back with the radiance of God still shining upon him, only one who spoke with God face to face as a friend. The mountain and the invitation awaits ….. Who will climb? Father I know how many obstacles/excuses there are for me to stay at the base of the mountain. My desire and longing is to climb to meet You. Keep that passion at the forefront of all that I do this day!  youversion note
its interesting to note in exodus 19 and in this chapter the limits had to be put around the mountain and how only one called man could come and approach God.  the people had to consecrate themselves but even then the mountain was off limits.  God appeared in a dense cloud with fire and thunders and lightenings.  if the people crossed the barrier they would die.
contrast to the reality that Jesus is God with flesh, incarnated.
The Word became flesh and made his dwelling among us. We have seen his glory, the glory of the one and only Son, who came from the Father, full of grace and truth.  John 1:14
Philip said, "Lord, show us the Father and that will be enough for us." Jesus answered: "Don't you know me, Philip, even after I have been among you such a long time? Anyone who has seen me has seen the Father. How can you say, 'Show us the Father'? Don't you believe that I am in the Father, and that the Father is in me? The words I say to you I do not speak on my own authority. Rather, it is the Father, living in me, who is doing his work.  Believe me when I say that I am in the Father and the Father is in me; or at least believe on the evidence of the works themselves.  John 14:8-11
The Son is the image of the invisible God.  Colossians 1:15
Let this mind be in you which was also in Christ Jesus,  who, being in the form of God, did not consider it robbery to be equal with God,  but made Himself of no reputation, taking the form of a bondservant, and coming in the likeness of men  Philippians 2:6-7
Jesus is the visible image of the invisible God.
and the beautiful thing is that He came and dwelt with us, to show us the Father, to demonstrate His love and grace and power.
because of Him we have access and freedom to approach God, just as Moses did : In him and through faith in him we may approach God with freedom and confidence. Ephesians 3:12