You are currently browsing the daily archive for April 6, 2012.
notes from my resurrection sunday message last year:
As we celebrate easter Sunday today I thought it would be great to open the bible and see what it has to say about the resurrection and how that is relevant for us today. We're going to be reading from Matthew 28 if you want to turn there and stick in a finger in it until we get to it…
I know some of you have been blest to be Christians for a long time and I know also that some of you here are newbies to the Christian thing – but it doesn't matter if you've being a Christian for 50 years or 5 minutes – or even if you're just asking questions at this stage – this is what we build our life on – who jesus is and what jesus did – we can never tire of hearing about what Jesus did for us upon the cross and it is good to remind ourselves of the power of His promises and the reality of His work in our lives.
My goal today is to anchor us firmly to the reality of the resurrection and refresh our hearts to what that means for us right here today and that we would leave here today inspired and challenged – that we would grasp more of the reality of how BIG God is and that He has the power to fulfil all His promises…
The resurrection is the proof of the power for the promises of God.
So let's jump right into what happened:
On Friday we remembered how Jesus bled and died for us – how He suffered and bore the punishment – pierced for our transgressions, crushed for our iniquities – note the small word there FOR – it was FOR us that Jesus died. Not for His own wrongdoing but for OUR wrongdoing.
Now even the disciples didn't see it pan out this way –this was not their plan A. Plan A for the disciples was for Jesus to go PACHING HERE IS MY GLORY (you might have had to see that bit to get the paching!)  The last thing they expected was that jesus would be executed as a common criminal on the cross. His death ended their hope. They expected him to declare himself rightful king and messiah and to kick the romans out and enter in an age of glory for Israel. Death on the cross wasn't part of the plan.
Their hero was dead. Their friend was dead. Their leader was dead.
Their Saturday sucked. On Saturday all hope was lost. But on Sunday we know that nothing is impossible! We have the joy of knowing the end of the story but they were broken and grieving and shocked.
Let's jump right into Matthew 28 to find out what happens next:
After the Sabbath, at dawn on the first day of the week, Mary Magdalene and the other Mary went to look at the tomb.    2 There was a violent earthquake, for an angel of the Lord came down from heaven and, going to the tomb, rolled back the stone and sat on it.    3 His appearance was like lightning, and his clothes were white as snow.    4 The guards were so afraid of him that they shook and became like dead men.    5 The angel said to the women, Do not be afraid, for I know that you are looking for Jesus, who was crucified.    6 He is not here; he has risen, just as he said. Come and see the place where he lay.    7 Then go quickly and tell his disciples: 'He has risen from the dead and is going ahead of you into Galilee. There you will see him.' Now I have told you.    8 So the women hurried away from the tomb, afraid yet filled with joy, and ran to tell his disciples.    9 Suddenly Jesus met them. Greetings, he said. They came to him, clasped his feet and worshipped him.    10 Then Jesus said to them, Do not be afraid. Go and tell my brothers to go to Galilee; there they will see me. Matthew 28:1-10
That is worth a Woohooo!
Jesus appeared not only to the women near the tomb but to all the disciples, including Thomas who when he heard that jesus had risen from the dead did a tui "yeah right" and jesus got Thomas to touch him and feel the wounds. Jesus also appeared to various other "disciples" including a group of 500 at a time.
Some say that jesus rose just as a spirit, or that Jesus was just unconscious and not really dead dead dead on good Friday. But as I said, Jesus could be touched, and he ate, though he also had supernatural abilities such as appearing in a locked room etc. His body bore some of the scars from his crucifixion but a majority of the wounds were healed. And I mean healed without 6 months in intensive care…
The disciple Peter sums it up this way: This man was handed over to you by God's set purpose and foreknowledge; and you, with the help of wicked men, put him to death by nailing him to the cross. But God raised him from the dead, freeing him from the agony of death, because it was impossible for death to keep its hold on him. Acts 2:23-24
But the facts are: Jesus died. And Jesus rose. And is alive now. Seated in heaven ruling and reigning beside His Father, preparing to come again.
"Jesus lived the life we could not live and died the death we should have died and given the gift we can never earn." Mark Driscoll
The promises of the Word and the purchases of the cross are shown to be TRUE and REAL by the power of the resurrection!
The cross purchased our salvation.
The cross purchased our forgiveness.
The cross purchased our access to draw near to God.
The cross purchased our family status – before we were rejected guilty strangers and now because of the cross, because of the sacrifice of Jesus, we are now beloved children of God, we're part of the whanau now.
But as awesome as the cross is and all that jesus did there upon it – I always think its more AWESOMER that he didn't stay dead, that He rose from death, defeated death, and is alive. Right now ALIVE!
The Resurrection assures us of God's ability to save us.
It assures us of God's forgiveness. The Resurrection assures us that we can be changed and forgiven and born again.
It assures us of God's power and of God's ultimate triumph.
It declares loudly and beyond shadow of a doubt that YES God has the power to remove the guilt and stain of sin from us – that we can be born again and rescued and draw near to God, whereas before we were guilty and sinful – it's an inside change, an inside transformation that before you experience it you wonder if this can really be too good to be true…
It shows us that God has the power to do the things He promises.
Healing.
Deliverance.
Forgiveness.
Provision.
Direction.
Strength to overcome temptation.
Empowerment to serve Him.
Peace.
Faith.
The resurrection is the guarantee that God can perform the promises of the Word and the work of the cross in our lives.
Look to the cross and the resurrection for the POWER demonstrated there.
But the Holy Spirit proved that Jesus is the powerful Son of God, because he was raised from death. Romans 1:4 CEV
The resurrection is the PROOF that we need that God CAN DO THOSE THINGS THAT HE PROMISES.
But what if you're like most people… that you need some proof that the proof of the promise happened… what about proof of the resurrection… is there evidence that it happened? I'm glad you asked me that…
Dr. Frank Morrison (a rationalistic lawyer) decided to take three years off from his law practice in order to try to disprove the resurrection of Jesus Christ. After three years of intense study, he found that the sheer weight of the evidence compelled him to conclude that Jesus Christ actually did rise from the dead. As a consequence he wrote the famous book entitled "Who Moved the Stone?"
Evidence Factoid #1 The first witnesses are WOMEN (shock!)
The fact that the resurrection accounts in the gospels include women make them more reliable because no one trying to sell a cover up in those days would have relied on the testimony of women. A woman's testimony in a court of law was not considered valid except in very rare cases. 
Evidence Factoid #2 CONSPIRACY THEORY
Matthew 28:11-15 has a fascinating insight into some of the cover ups and conspiracies by the religious leaders aka Jesus' enemies…
While the women were on their way, some of the guards went into the city and reported to the chief priests everything that had happened.    When the chief priests had met with the elders and devised a plan, they gave the soldiers a large sum of money,     telling them, You are to say, 'His disciples came during the night and stole him away while we were asleep.'     If this report gets to the governor, we will satisfy him and keep you out of trouble.     So the soldiers took the money and did as they were instructed. And this story has been widely circulated among the Jews to this very day.
Don't you love a good conspiracy theory!   
But let's think rationally. Do you think the guards would have been "rewarded" for really losing a body? To fall asleep on the job would have been punishment and perhaps death for the guards. One way a guard was put to death was by being stripped of his clothes and then burned alive in a fire started with his garments. If it was not apparent which soldier had failed in his duty, then lots were drawn to see which one would be punished with death for the guard unit's failure. Certainly the entire unit would not have fallen asleep with that kind of threat over their heads.
The guards had witnessed the earthquake and the angel rolling away the massive stone and perhaps even peeked in to see the empty tomb… they went back to the chief priests and told them everything that had happened EVERYTHING… and the priests made the call to cover it up rather than punish the guards for losing a body… interesting…
Evidence Factoid #3 The Disciples Died for Jesus
As we said earlier, if any enemies of the Christians or of Jesus had stolen the body, they would have produced it to stop the disciples preaching and people becoming christians. They would have put it on the news and tweeted their hearts out… They would have been out there saying: "Wait! We moved the body, see, He didn't rise from the grave"? They would have paraded the body around as proof that Jesus was a fraud.
But let's play along and suggest what if the DISCIPLES of Jesus stole the body? First off, they had no reason to do this because by starting a religion in opposition to the Jewish customs was not the cool thing to do.
But more importantly, all but one of the disciples lived their lives for Jesus and His church and out of the main 12, 11 of them suffered martyrs' deaths and not one of them said "stop we made it all up. It was all peters idea!" None of the disciples recanted their belief that Jesus had risen from the dead. The 12th disciple, who was not martyred was john and they did TRY to kill him by boiling him a huge pot of oil, but couldn't kill him. He was then was exiled to Patmos where he wrote the book of revelation. But it wasn't just the 12 disciples who faced death because of their faith – ordinary Christians were persecuted and locked up and thrown to lions and stoned to death and killed because of Jesus. Every effort was made to stop the disciples and early believers but they kept on believing and talking about it. And the church kept on growing.
Another point to note is that right after Jesus' death the disciples locked themselves away in the upper room, but after His resurrection they were bold, fearless and out there on the streets working miracles and preaching the gospel. In other words, if they had created a lie, they would certainly not have lived for it or died for it. They lived and died because the resurrection is REAL.
Dr. Simon Greenleaf (a very famous Harvard University professor of Law) proclaimed: "According to the laws of legal evidence used in courts of law, there is more evidence for the historical fact of the resurrection of Jesus Christ than for just about any other event in history."
The only possible reason why early Christianity began and took the shape it did is that the tomb really was empty and that people really did meet Jesus, alive again. This is what we believe in. There IS proof of the resurrection.
The resurrection of Jesus is the foundation of the Christian faith. Without it, there is no gospel message, no saviour, no supernatural power. There is no hope of us going to heaven when we die, and no hope of drawing near to God, no forgiveness of sins. This is absolutely essential to Christian belief.  Paul writes in 1 Corinthians 15:14 and 17, "If Christ has not been raised, then our preaching is useless and your faith is in vain…And if Christ has not been raised, your faith is futile and you are still in your sins." Black and white. If Jesus didn't rise from death then this is all useless and we're all still guilty and separated from God. If Jesus didn't rise from the dead then He's not who He says He is and its all for nothing. But the good news is He HAS been raised! The resurrection is REAL!
Jesus opened a door through His death for us to come near to God again.
God himself was pleased to live fully in his Son. And God was pleased for him to make peace by sacrificing his blood on the cross, so that all beings in heaven and on earth would be brought back to God. You used to be far from God. Your thoughts made you his enemies, and you did evil things. But his Son became a human and died. So God made peace with you, and now he lets you stand in his presence as people who are holy and faultless and innocent. Colossians 1:19-22 CEV
Because of Him we can be free from sin and guilt, we can be friends with God and be confident and assured of where we'll spend eternity.
Don't you love how sometimes it seems that paul gets so excited that he forgets to breathe and include full stops… here is another one: He prays that we would know "what is the exceeding greatness of His power toward us who believe, according to the working of His mighty power  which He worked in Christ when He raised Him from the dead and seated Him at His right hand in the heavenly places,  far above all principality and power and might and dominion, and every name that is named, not only in this age but also in that which is to come."
The CEV puts it this way:
I want you to know about the great and mighty power that God has for us followers. It is the same wonderful power he used when he raised Christ from death and let him sit at his right side in heaven. There Christ rules over all forces, authorities, powers, and rulers. He rules over all beings in this world and will rule in the future world as well.
God is at work in our lives – with great and mighty power – demonstrating that same power He used to raise Jesus from the grave. God is at work in us to heal us, set us free, transform us, guide us, give us His peace and to empower us to show the world that He is real. Through unbelief and disbelief we can sometimes live far below what the cross and resurrection has won for us. Let's raise our expectations and our outliving to the level of the power demonstrated in the resurrection!
The resurrection is the proof of the power for every promise of God.
Any answer and any need you have CAN be answered in Jesus. He HAS the power!
Now to Him Who, by His power that is at work within us, is able to carry out His purpose and do superabundantly, far over and above all that we dare ask or think, infinitely beyond our highest prayers, desires, thoughts, hopes, or dreams—Ephesians 3:20
Paul goes on to say in Romans 10:9: That if you confess with your mouth, Jesus is Lord, and believe in your heart that God raised him from the dead, you will be saved.
Jesus lived the life we could never live and died the death we deserved and gives us the gift we can never earn.
Will you accept that gift today?
As the band comes up for a closing song in worship lets consider our response.
How do we respond to what Jesus has done on the cross? How do we live responding to His great love poured out on the cross?
Will you put your faith in the one who undeniably rose from the dead?
Let's raise our level of expectation in the promises of God. Let's have greater confidence in God to move and work in our lives.
Today… what impossibility do you need God to touch? 2000 years ago He declared the reality of the power in His promises. Do you need healing? He is our healer. Do you need provision? He is the God who provides. Do you need hope and comfort? He is the one who calls us to come and find strength and hope in His love. Do you need salvation? He is our Saviour. Do you need a new start and forgiveness? Nothing is impossible for God. He is alive today and forever more!
Jesus was—
Despised, so you could be accepted in the Beloved (Ephesians 1:6);
Rejected, so He could make His home with you (John 14:23);
Sorrowful, so you could receive fullness of joy (John 15:11);
Forsaken, so you could be called His friend (John 15:15);
Afflicted, so you could be healed (Isaiah 53:5);
Acquainted with grief, so you could be comforted (Hebrews 4:15);
Chastised, so you could be given perfect peace (John 14:27);
Judged, so you would not need to live in condemnation (Romans 8:1);
Numbered with the transgressors, so you could walk in the freedom of His mercy (Ephesians 2:4-5);
Put to death, so you could live your life fully for Him (2 Corinthians 5:15);
Buried, so you would have the hope of the resurrection (Romans 6:5);
RESURRECTED from the dead, so you could walk in newness of life (Romans 6:4)!
Roy Lessin
"Man's Maker was made a man
that the Bread might be hungry,
the Fountain might thirst,
the Light sleep,
the Way be tired from the journey;
that Strength might be made weak,
that Life might die."
                                                -Augustine
it links in with another quote i read a few months ago on facebook and the breath of revelation i got as i read it:
"On the Cross, Jesus went from being a fully accepted Son to being orphaned. (Ps 22:1 "My God, My God, why have you forsaken Me?). That is so you could go from being orphaned to being a FULLY accepted Son the moment you believed. I accept you and love you JUST AS MUCH as I accept and love Jesus. You are no longer an orphan, but a fully accepted and loved Child of mine. Equally cherished as Jesus is cherished ~ Geoffrey Stewart
And immediately I thought about something else Jesus said on the cross:
I thirst.
Hmmm. I, the giver of living water, that whoever takes of it will never thirst again, I thirst. That stopped me in my tracks. And afresh I again appreciated the exchange of Jesus and the immensity and reality of what He has done for us.
When we're living our lives with intentional gratitude we're fixing our eyes upon Jesus and agreeing YES He is good and YES He is faithful and YES He is Lord and YES He is the one who loves us!  Gratitude is an expression of faith.
Be joyful: Intentionally look around for measures of joy each day. There is joy in simply being alive and in being redeemed by God. Remember, joy is a choice we make, not a feeling we hope to get from our circumstances. It's good to look for the good, to celebrate it even in small ways. Doing so is a moment of victory.  Lysa TerKeurst
2085.  its good friday today.  so much to be grateful for based upon what Jesus did on the cross.
2087.  two of my sons friends (age 9 and 6) came to church today.  they came to the children's church outreach a few weeks ago and caleb asked them to church for good friday and they came.  their mum dropped them off and picked them up.  totally impressed with my son's ease of boldness and so heartwarmed by what God is doing and can do in these boys lives.
2088.  my son is TEN.  and he's so spunky.
2089.  matt chandlers preaching rocks.  and still feeling blest by the fact we won the dvds.
2090.  had my first easter egg today.  and first chocolate in two weeks.  and its wheat free.
2091.  did my first 2 weeks wheat free.  feeling good.  not amazing.  but good.  back to the doctor on tuesday.
2092.  my friend fee rocks.
2093.  pink bows
2094.  dairy free bunnies.  and the look of sheer joy on my daughters face
2093.  room change arounds
2094.  tidy bookshelves
2095.  finding the cutest jacket on TM for my daughter at an uber cheap price
2096.  sunshine
2097.  sheets flapping on the line
2098.  had a rocking 80s night on wednesday.  loved the committment of our housegroupies to dress up.
2099.  jesus has set me free
2010.  the fearless experiment 
2011.  GF hot cross buns that my friend brought me.  so sweet
2012.  answered prayer
2013.  being able to text afganistan
2014.  just do it
2015.  reward for discipline
2016.  baby fat rolls
2017.  my daughter learned to plait.  its so cute now watching her plait all her dolls hair
2018.  finding the perfect song for church on sunday for dp!
2019.  cranberry apple tea
2020.  God's provision
2021.  nice customer service people at countdown
2022.  salvation / grace / mercy / redemption
"Too often I miss Him, oblivious, blind. I don't see all the good things that He is giving me, gracing me with, brushing my life with. True, He is everywhere, always. Before I thought of Him as further off, not so close. When I started to see all the things that I love bestowed upon me, I started to see Him as near, present, everywhere, showering me with good things. Seeing the things I love all around me gives me eyes to see that I am loved, that He loves me." Ann Voskamp
so there we go.  venturing on in life to 3000 things that i am grateful for…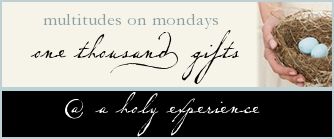 God because of the imputed righteousness of Christ to me and his wrath absorbing death on the cross and his resurrection now sees me as perfect and spotless and holy, not because i am but because HE IS
~ Matt Chandler
.