You are currently browsing the monthly archive for October 2011.
When we're living our lives with intentional gratitude we're fixing our eyes upon Jesus and agreeing YES He is good and YES He is faithful and YES He is Lord and YES He is the one who loves us!  Gratitude is an expression of faith.
1446.  grace.  in my weakness and flaws God still loves me.  His love never fails.
1447.  the reality of Romans 8:32+
1448.  good friends and good food – together a great combination
1449.  i'm going to Sista's conference this week!
1450.  moustaches in the mail (for a fun housegroup night coming up)
1451.  people stepping up and living their dream and living for Jesus, making good choices and being obedient to the reality of what God says
1452. compliments from unexpected places
1453.  honey mustard chicken… the kids liked it!
1454.  we won the rugby world cup.  and the RWC gave us lots of family opportunities to connect and have fun!
1455.  still buzzing about the convo i had with the bath fix it man and the opportunity that has arisen from that to speak at another housegroup via skype
1456.  our bath is fixed!  and yay for insurance!
1457.  that we can walk right into the very throne and presence of God, welcome and loved and accepted as children of God (heb 4:16)
1458.  our church has a new childrens church pastor!!!! yay!  happy on so many levels about this one!
1459.  the provision of God in so many ways
1460.  christmas is coming!
1461.  i love the adventures my kids are having at school, esp my son – he has such an awesome teacher!
1462.  worship music…
1463.  that God makes a way where there is no way
1464.  that my husband is so constant
1465.  meeting with other housegroup leaders tonight – they're so awesome and is great to bounce encouragement and inspiration around
1466.  guest speakers at church
1467.  sunshine
1468.  cuddles
1469.  grace.  its worth mentioning twice.
1470.  i'm so grateful God loves me and knows me and that He is the I AM – that He IS who He says He is and i can trust Him and expect Him to act in character
1471.  i'm sleeping better
1472.  coke cola
1473.  people praying for me
1474. "Every person's life is a fairytale written by God's fingers." ~Hans Christian Anderson
1475.  His strength is available for me at any time and is sufficient for every need
so there we go.  venturing on in life to 2000 things that i am grateful for…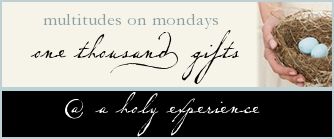 listening to radio rhema this morning my ears were caught by an illustration about leadership and politics that using graham henry, coach of the All Blacks team as an example.  the radio host cited an article written by david kirk, captain of the 1987 all blacks.  so of course, i looked it up and am filing it here… as i may pinch it and use it myself one day…
We carry weight when God fills us. Then we are "big." As John the Baptist said, "He must become greater; I must become less" (John 3:30). God does not choose the cleverest people, but those who are "rich in faith" (Heb 11) Reinhard Bonnke 
i believe that the person God uses is the one that says YES.
the one who has the faith to believe that God calls and can use them and will them
because HE is GREAT and GOOD
and because HE works in and through us
i believe that the person God uses allows God to be glorified and exalted, not themselves and their own efforts
living as a jar of clay, so that the reality of God may be demonstrated – But we have this treasure in jars of clay to show that this all- surpassing power is from God and not from us. 2 Corinthians 4:7
i believe that the person God uses is the one that steps out and trusts in God's power and empowerment
But God chose the foolish things of the world to shame the wise; God chose the weak things of the world to shame the strong.  He chose the lowly things of this world and the despised things— and the things that are not— to nullify the things that are, so that no-one may boast before him.   It is because of him that you are in Christ Jesus, who has become for us wisdom from God— that is, our righteousness, holiness and redemption.  Therefore, as it is written: Let him who boasts boast in the Lord.  1 Corinthians 1:27-31
i am not ashamed to say i fit into those categories.
but i choose not to be limited by my weakness because i know that God calls me and uses me and works through me and that any good and great i do is because HE is good and great to me and through me.  i choose to say YES GOD, HERE AM I, USE ME
"You have to find something that you love enough to be able to take risks, jump over the hurdles and break through the brick walls that are always going to be placed in front of you. If you don't have that kind of feeling for what it is you are doing, you'll stop at the first giant hurdle." ~ George Lucas
and because i was looking for an image of george lucas… i found this… the star wars cast.  we totally love star wars in our house.  my son has the clone war series and when he turned 9 he was allowed to watch STAR WARS (iv a new hope) for the first time.  he has a few books on it and soaks up facts like… like a jedi in training.  my daughter loves star wars too, though she hasnt been old enough to watch "the real star wars" yet

)  i just love this photo because, like most people i am sure, i was AMAZED to find out that r2d2 and c3po were not just robots but ACTORS IN COSTUMES!  c3po just seemed so skinny and well, r2d2, he was so small!  and of course, i totally buy into the imagination and wonder of movies!   you know… that makes me wonder about the ewoks for the first time… 
so much of what we talk about in housegroup is about figuring out who we are, who God is and what is His plan for our lives… what is His plan big picture wise, what will i do and be when i "grow up", relationships, missions etc 
love this perspective by Steven Furtick on his blog this morning:
When it comes to trying to figure out God's plan for your life, there are two questions you can ask. One wrong. One right.
Wrong Question:
God, what's your plan for my life?
Right Question:
God, what's your Plan, and how can my life fit into it?
That might seem like semantics, but it makes all the difference in the world.
God's Plan isn't first and foremost about us. His plan for us isn't about us either.
It's not about our lives.
It's not about our careers.
It's not about our future spouse.
It's not about our anything.
It's about His Purpose, His Kingdom, His Glory. His Plan.
And then about how our lives.
Our careers.
Our future spouse.
Our everything.
Fit into it.
Start asking the right question. And you'll start figuring out God's plan.
For His life. And yours.
by
i love how God loves us.  yesterday Romans 8 was in my heart – NOTHING CAN SEPARATE US FROM THE LOVE OF GOD – because of Jesus we are innocent, holy, righteous, accepted (Col 1:19-22) how wonderful is that!  this popped up on my fb wall today and it so encouraged me so i just had to share it!
 

For I will be merciful to their unrighteousness, and their sins and their lawless deeds I will remember no more."

Hebrews 8:12
Perhaps you have heard people say of others: "Oh, if only you had seen my husband in the early years of our marriage. He had such an explosive temper that I used to seek shelter in my mother's house!"
"No one would have ever guessed that she had such a promiscuous past."
"As a young boy, he would always lie through his teeth and not even bat an eyelid!"
Man looks at you and remembers what you were like in the past. But when God looks at you through the new covenant, He declares, "I will be merciful to your unrighteousness, and your sins and lawless deeds I will remember no more."
He states it plainly in His Word as if to assure us: "When you come to Me, don't think that I am thinking about your sins. Don't think that every time I look at you, I am reminded of your sins. Not only am I not keeping a record, but I am also not mindful of your failures and shortcomings. I am telling you that I will remember your sins no more, never again!"
God can say that all our sins He remembers no more because there was a time when He remembered them and punished every one of them — in the body of His Son at the cross. He punished every single one of them until Jesus cried out, "It is finished!" (John 19:30) That is why today, God can justly say, "Your sins I will remember no more."
We all know that we sin from time to time. But the good news is that all our sins have already been dealt with at the cross. They have been washed away by Jesus' blood. Now, when we come into God's presence, He sees us without our sins. So beloved, forget your past failures. Believe that God remembers your sins no more and be the righteous man that you already are in Christ!
Thought For The Day
All our sins have been dealt with at the cross, so we can come boldly into God's presence.
If God is for us, who can be against us? He who did not spare his own Son, but gave him up for us all— how will he not also, along with him, graciously give us all things? Who shall separate us from the love of Christ? Shall trouble or hardship or persecution or famine or nakedness or danger or sword? No, in all these things we are more than conquerors through him who loved us. For I am convinced that neither death nor life, neither angels nor demons, neither the present nor the future, nor any powers, neither height nor depth, nor anything else in all creation, will be able to separate us from the love of God that is in Christ Jesus our Lord. ~ Romans 8  NIV
What can we say about all this? If God is on our side, can anyone be against us? God did not keep back his own Son, but he gave him for us. If God did this, won't he freely give us everything else? If God says his chosen ones are acceptable to him, can anyone bring charges against them? Or can anyone condemn them? No indeed! Christ died and was raised to life, and now he is at God's right side, speaking to him for us. Can anything separate us from the love of Christ? Can trouble, suffering, and hard times, or hunger and nakedness, or danger and death? In everything we have won more than a victory because of Christ who loves us. I am sure that nothing can separate us from God's love–not life or death, not angels or spirits, not the present or the future, and not powers above or powers below. Nothing in all creation can separate us from God's love for us in Christ Jesus our Lord!  ~ Romans 8  CEV
So, what do you think? With God on our side like this, how can we lose? If God didn't hesitate to put everything on the line for us, embracing our condition and exposing himself to the worst by sending his own Son, is there anything else he wouldn't gladly and freely do for us? And who would dare tangle with God by messing with one of God's chosen? Who would dare even to point a finger? The One who died for us—who was raised to life for us!—is in the presence of God at this very moment sticking up for us. Do you think anyone is going to be able to drive a wedge between us and Christ's love for us? There is no way! Not trouble, not hard times, not hatred, not hunger, not homelessness, not bullying threats, not backstabbing, not even the worst sins listed in Scripture:   None of this fazes us because Jesus loves us. I'm absolutely convinced that nothing—nothing living or dead, angelic or demonic, today or tomorrow, high or low, thinkable or unthinkable—absolutely nothing can get between us and God's love because of the way that Jesus our Master has embraced us.  ~ Romans 8  MSG
What then shall we say to [all] this? If God is for us, who [can be] against us? [Who can be our foe, if God is on our side?] He who did not withhold or spare [even] His own Son but gave Him up for us all, will He not also with Him freely and graciously give us all [other] things?  Who shall bring any charge against God's elect [when it is] God Who justifies [that is, Who puts us in right relation to Himself? Who shall come forward and accuse or impeach those whom God has chosen? Will God, Who acquits us?] Who is there to condemn [us]? Will Christ Jesus (the Messiah), Who died, or rather Who was raised from the dead, Who is at the right hand of God actually pleading as He intercedes for us? Who shall ever separate us from Christ's love? Shall suffering and affliction and tribulation? Or calamity and distress? Or persecution or hunger or destitution or peril or sword?  Yet amid all these things we are more than conquerors and gain a surpassing victory through Him Who loved us. For I am persuaded beyond doubt (am sure) that neither death nor life, nor angels nor principalities, nor things impending and threatening nor things to come, nor powers, Nor height nor depth, nor anything else in all creation will be able to separate us from the love of God which is in Christ Jesus our Lord. ~ Romans 8 AMP
'…[God] wrestled…with him until…' Genesis 32:24 KJV
The Bible says, 'Jacob was left alone; and there wrestled a man [the angel of the Lord]…until the breaking of the day.' When God decides to deal with you He will get you alone. Notice, Jacob was 'left'. When surgery is required, nobody else is allowed in the operating room. Something in you must be dealt with or you won't make it.
Notice also, 'There wrestled a man with him until'. Others may give up on you, but not God. '…He who has begun a good work in you will complete it until the day of Jesus Christ' (Philippians 1:6 NKJV). 'Until' Jacob becomes Israel, 'until' the deceiver becomes a prince with God, 'until' you begin to walk, talk and live in such a way that everybody around you knows you've been touched by God. God's not going to let you get by with stuff He used to overlook. When you're running out of time He will wrestle with you and show you that you're wasting your life. He will wrestle with you over your careless attitudes, words and actions. He will wrestle with you over your ingratitude and help you see how blessed you are. He will wrestle with you over your double-mindedness and unwillingness to make a commitment. You've changed jobs, changed relationships and changed churches; when are you going to let God plant you permanently somewhere so that you can bear fruit?
from the Word for Today
- at the start of the year someone had a word for me that this year was a wrestling year, like jacob wrestling God, and because he did he was renamed as Israel.  so i take notice of things about jacob wrestling God, like the Word for Today today that arrived in my inbox.
Ask and keep on asking. Knock and keep on knocking. Seek and keep on seeking. (See Luke 11:10)
The One Thing I Believe About You Is – God Loves You, Has An Amazing Plan For Your Life And IS NOT FINISHED WITH YOU YET!
God's not through with you!
People may be through with you, heck, the church may have even told you they are through with you…
GOD'S NOT THROUGH WITH YOU!
If you still have air in your lungs, if your heart is still pushing blood through your body then God's not done!!!
God wants greater things for your life than you could ever imagine!  (See Ephesians 3:20 and Matthew 7:9-11)
AND, no matter what you have gone through HE IS ABLE to bless your life MORE from this point forward than you have EVER experienced! 
by Perry Noble – The One Thing I Believe About You
i so love perry noble's enthusiasm and encouragement.  i LOVE his lists.  and his ministry encouragement.  i totally soak it up (did i mention i'm a words of affirmation chick?)  i totally get what he is saying. and what God is saying.
so is there anyone you read that seems to totally "speak your language"?
is there anything that God has encouraged you with lately?
have you ever felt a nudge, to do something, speak to someone, say something… like a compelling
today i did
i felt a nudge, a compelling, to give the 50+ year old man fixing our bath some of the baking i was making and a cup of coffee. 
simple gesture.
nice. hospitable.
he then surprised me by saying he hasn't had home baking since he was 12.
yes TWELVE.
about 2 hours later we're sitting down over another cuppa talking about God, me telling him my story and him talking about where he is at.
baking opens doors.
obeying the nudge of the Holy Spirit opens doors and hearts.
yay God.
so go on… no matter how random, or simple, or insignificant that nudge may feel… step out and do it…
take the opportunity, and see an opportunity open