You are currently browsing the monthly archive for March 2011.
Overwhelming sacrifice, You freely paid the highest price, Suffering You traded blood for me… My heart will sing the deepest praise, My lips rejoice, my hands will raise…For the death that brought me into life.. All for love.. My Jesus, You gave all for love…I am standing in the wonder of Your great love…
Bethel Music // wow. …wow. wow.
Last night we relaunched our housegroup – we've had a bunch of new people join and a bunch of our "older" membes leave to start a new group – exciting times of expansion!  so last night we had a revisionish night – talking about some of the practical stuff about housegroup (like stash and share) and about some of the big ideas and heartbeats of our group…
The 3 big words of housegroup are:
ENCOUNTER
CONNECTION
TRANSFORMATION
Our early 20s is a real transition stage – high school to uni, or work, or the big OE… relationships start to get more serious, or we start to think we want a more serious relationship, things like cars and houses and big purchases and credit cards start to be part of our money experience… and importantly we're transitioning from "the faith of my family" or the "faith of my youth group" (as in I'm going along with the flow in some shape or form) to now developing and establishing our very own personal real life faith in God.
That's for me why ENCOUNTER and EXPERIENCE matter so much
It's not about HOW MUCH you know in your head but whether it is real all the way on the inside and then that it is being LIVED OUT
EXPERIENCE takes head knowledge and makes it real
It gives perspective to head knowledge – it's the WHY in the context
And it's important to have this basis of reality – that it's very real to each of us – because like never before it will be challenged.  There are new temptations, new options, new distractions and new challenges.  We meet people who believe in totally different things or "nothing at all."   In our early 20s is when we need to discover for ourselves WHO God is and to concrete our faith into the dna of who we are so that when the detours are presented that we're fully aware of what decision to make.  Its like thinking about the answer before the question arises in a way.
ENCOUNTER leads to TRANSFORMATION.  It takes ideas and makes them realities.  It's an inside out change.  Things that perhaps seemed like rules and "Christian things" become principals we live our lives for.
As a Christian we're challenged to live a different way of life… life is more than breathing – we have to make intentional decisions to live according to God's ways… and that's not because God is a dictator and likes things "done just his way" – its because He is a good Father and knows how the universe works… He knows the plan of our lives and how people are wired and how relationships function, so His ways are to bless us and protect us.
God is very real and without Him I don't believe in satisfaction.  I believe He has a plan and a purpose for our life; He loves each one of us, and doesn't want us to waste our lives or live broken lives.  "Sin is what you do when your heart is not satisfied with God." ~ John Piper  Living life our own way is separate from His love and leads to hurt and brokenness and misdirection and unfulfillment and guilt and potentially eternity away from God.    
But on the flip side, when we encounter Him and know Him and follow Him and follow His ways we live out our lives pleasing Him, being guided by Him, satisfied and living the adventure God designed for us:  For I know the plans I have for you, declares the LORD, plans to prosper you and not to harm you, plans to give you hope and a future.  Jer 29:11
TRANSFORMATION aligns ourselves with God's ways
-         But seek first his kingdom and his righteousness, and all these things will be given to you as well.   Matt 6:33
-         But seek (aim at and strive after) first of all His kingdom and His righteousness (His way of doing and being right), and then all these things taken together will be given you besides.   Matt 6:33
-         Therefore, I urge you, brothers, in view of God's mercy, to offer your bodies as living sacrifices, holy and pleasing to God— this is your spiritual act of worship. Do not conform any longer to the pattern of this world, but be transformed by the renewing of your mind. Then you will be able to test and approve what God's will is— his good, pleasing and perfect will.  Rom 12:1-2
Being in a place of being open to God is so a key element in TRANSFORMATION and I encourage each of us to keep being open to God, though sometimes transformation is not a comfortable process.
We want housegroup to be an open place for us. No matter where we are at with God, how close or distant we feel, how fired up or blah we feel, this is a place welcome to each of us. 
We also want housegroup to be a place of CONNECTION – with God yes, and with each other.  This is always a safe place, to laugh, to make friendships, to iron sharpens iron type thing, and by that I mean we need people in your life who know WHO we are and WHO we are called to be and will challenge us when we deviate from the path and are heading off on distractions and even destructions.  We tell it like it is here.  we're uncompromising in calling each other to know God and to walk with Him and for Him.
We want housegroup to be a place where we can learn, where we can step out and try new ideas and new things, where we can talk about things that we're thinking about, even doubts and fears, where we find the answers yourself and where we get inspired, revived, empowered, equipped, encouraged and also make a bunch of darn good friends.
Paul House: The movement in history from creation to new creation through the redemptive work of Father, Son, and Spirit who saves and changes corrupted people and places for his glory and their good.
John Frame: God glorifies himself in the redemption of sinners.
Sean Lucas:  The message of the Bible is the transforming grace of God displayed preeminently in Jesus Christ.
from http://dogmadoxa.blogspot.com/2011/01/whats-message-of-bible-in-one-sentence.html
love that!  and to add to it with kind of more than one sentence here are some of my fav bible verses that for me capture the gospel in a short few sentences
"For there is only one God and one Mediator who can reconcile God and humanity—the man Christ Jesus. He gave his life to purchase freedom for everyone. This is the message God gave to the world at just the right time." (1 Timothy 2:5-6)
But God demonstrates His own love for us in this: While we were still sinners, Christ died for us. Romans 5:8
God himself was pleased to live fully in his Son.And God was pleased for him to make peace by sacrificing his blood on the cross, so that all beings in heaven and on earth would be brought back to God. You used to be far from God. Your thoughts made you his enemies, and you did evil things.But his Son became a human and died. So God made peace with you, and now he lets you stand in his presence as people who are holy and faultless and innocent. Colossians 1:19-22
'God so loved the world that the gave his one and only Son that whosoever believes in him should not perish but have eternal life' (John 3:16).
love this picture of me and my girl.  isnt she delightful.  we're just hanging out having some chick time.  
adore the lighting on this stage – its Moment Church with Tony Wood and my facebook/twitter friend @JarridWilson goes there and is involved and posted the photo.  you should go check @JarridWilson out on twitter because i love his tweets – "I am ready to take His love to the world, His hope to the nations, His light to the darkness."  but dont you just ADORE that lighting.  i would put that in my pocket and take it home for sure! 
loving the new Bethel album… esp God i Look To You, I will Exalt, God of the Redeemed, Forever and a Day… i love live worship with good musicality and depth!
"I owe people an encounter with God. I owe them more than just a message filled with truth. Whatever I do for people must contain the opportunity for a divine encounter. What people need is God. Encountering his power is encountering Him" Bill Johnson  brilliant quote… brilliant goal for living our lives!
these are my FIVE chicks, chicks from our young adults ministry.  the guys had a mens ministry thing going on and so us girls took to Oportos for delish burgers and fun times!  can you spot me… i'm front row bottom right… love these awesome young women of God!
and as always.  i love Jesus with all i am and all my heart and all my soul and all my days. For His glory and the building of His kingdom and the rescue of the lost.
Peace I leave with you; my peace I give you. I do not give to you as the world gives. Do not let your hearts be troubled and do not be afraid.  John 14:27
i love small words.  small words can say so much.  i always read for the BUT, the HAS, the AND.  and here it is the LET.
do not LET your hearts be troubled.
LET = permission.
Do not give permission for your hearts to be troubled.
Do not let it dwell on the problems and circumstances.  Do not let it start down a track of doubt and unbelief and fear.
Instead LET your mind be fixed upon the greatness of God, upon his love and compassion and unshakeableness.
Instead focus on his power to deliver and overcome.
Focus on his promise that he is with us always.
Peace is a choice.
A choice between faith and fear.
A decision.
A letting.
Peace is not the absence of troubling situations.  Rather it is faith in the midst of trial and trouble.
Make the choice to have peace.
i'm quirky. really i am. i know it. i embrace it
so want to know some quirky things about me:
i love buying tomatoes.  there are times of the year when tomatoes are so amazingly round and red and delish.  and that makes me happy || LOST is my happy place || i love scented coloured gel pens.  they make reading the bible more… um… fragrant… || i dont like wearing socks with my cons || i find it hard to watch tv and not read a book.  unless LOST is on || i find it hard to do one thing at a time… || i adore photos of my family.  but not being in them || i am waiting for my sinusitis and allergies to be totally healed so i can get my nose pierced again || i love blogs like A Beautiful Mess and Design Sponge and Dee Construction and Li'l Magoolie… they fill my visual heart, like a sound of a can of coke cola being opened on a steaming hot day || i have spontaneously stopped biting my nails this year.  like without trying. bring on the darkest purple/black polish || i have an issue with capital letters and punctuation || i love indie irishy type music like Hothouse Flowers and Gungor and Amber Brookes and also more guitar rock bands like Ascend the Hill and Linkin Park and like my worship Loud and full of musicality like Jesus Culture and Ian McIntosh and Hillsong United || i like my toast cooked extra well done
When we're living our lives with intentional gratitude we're fixing our eyes upon Jesus and agreeing YES He is good and YES He is faithful and YES He is Lord and YES He is the one who loves us!  Gratitude is an expression of faith.
If we practiced gratitude what kind of effect would it have on our hearts? And the world around us?
Also as we look around us we have so many reasons to explode with gratitude. We live in houses. We have toothbrushes. We have food for our tables. People who love us and people to love. Beds. Shoes. Weetbix. Sunshine. Rain. In so many ways we are blessed. It's all about perspective sometimes.
"Nothing is ordinary. Life is an endless series of little miracles. The difference between living and existing is noticing." Louie Gigilo
1153.  rainy days and rainy nights… esp rainy nights curled up under the wintery duvet
1154.  lovely doctors
1155.  modern medicine
1156.  fresh soft bread to make fresh soft sandwiches
1157.  i really enjoyed watching FRINGE with my hubby last night… a moment to stop and be together
1158.  moving forward in grace
1159.  breakthrough
1160.  the new bethel worship album BE LIFTED HIGH – i love new worship songs and i love worshipping God
1161.  His Word that warms our heart towards Him
1162.  supporting friends
1163.  friends that get you
1164.  friends on twitter and facebook that though i've never met know are true friends
1165.  a great church – the best church in the world – and the new things happening there!
1166.  family game time
1167.  the kids playing nicely together
1168.  imagination play
1169.  countdown to my 8 year old turning 9 next week
1170.  being able to ring my dad and say i love you
1171.  being able to ring my dad in a crisis. 
1172.  being able to pray to my Heavenly Father and know He is with me always
1173.  the peace God gives
1174.  new faces at housegroup
1175.  good books and highlighters
1176.  confirmation that yes, i heard from God…  i love how He leads us…
1177.  laughter and minties.
1178.  my husbands new job and the favour of God on his life… such a reward and blessing for my husbands attitude of service… even typing this my heart is warmed with love and honour for my husband and joy at how God is blessing him. 
so there we go.  venturing on in life to 2000 things that i am grateful for…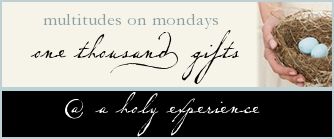 the world is moving and morphing at warp speed and the meaningless, dead-end chatter and enemy-crafted banter is piling up online like rush hour traffic.  Christ is being discarded.  biblical values are being marginalized more and more.  influence is the currency and increasingly, Christians are broke.  if you choose to roam aimlessly and blend into the online world, some pay perish – eternally.  @stickyjesus
blend.  blend in.
ugh. 
when i read that, distaste rose up in my heart!
i dont want to blend in!
So here's what I want you to do, God helping you: Take your everyday, ordinary life—your sleeping, eating, going-to-work, and walking-around life—and place it before God as an offering. Embracing what God does for you is the best thing you can do for him. Don't become so well-adjusted to your culture that you fit into it without even thinking. Instead, fix your attention on God. You'll be changed from the inside out.
Do not be conformed to this world (this age), [fashioned after and adapted to its external, superficial customs], but be transformed (changed) by the [entire] renewal of your mind [by its new ideals and its new attitude], so that you may prove [for yourselves] what is the good and acceptable and perfect will of God, even the thing which is good and acceptable and perfect [in His sight for you].
And do not be conformed to this world, but be transformed by the renewing of your mind, that you may prove what is that good and acceptable and perfect will of God.  Romans 12:1-2 MSG, AMP, NKJV
our challenge is to be nonconformists.  to not blend in.  to be different.  to be counter culture.
or on the flip side…
its to conform to God's Kingdom culture, to be recognizable as His child, to be of His world, not of the world around us.
blending in to me reeks of compromise, silence, head bowing, grayness and living limited.
but when we dont blend in we make a stand for righteousness, we walk by faith not by sight, we love, give, rise up and live to please God.
i dont want to blend in.  i know i am not perfect, that i am flawed, but my heart leans towards wanting to be holy and live for Jesus, BECAUSE it pleases Him and BECAUSE He gave His all for me that i might be saved and rescued.
and so i want to live holy, faultless and innocent.
i want to live transformed.  the new me wants to live.
Therefore if any person is [ingrafted] in Christ (the Messiah) he is a new creation (a new creature altogether); the old [previous moral and spiritual condition] has passed away. Behold, the fresh and new has come! 2 Corinthians 5:17 AMP
Therefore, my dear friends, as you have always obeyed— not only in my presence, but now much more in my absence— continue to work out your salvation with fear and trembling, for it is God who works in you to will and to act according to his good purpose. Do everything without complaining or arguing, so that you may become blameless and pure, children of God without fault in a crooked and depraved generation, in which you shine like stars in the universe as you hold out the word of life— in order that I may boast on the day of Christ that I did not run or labour for nothing.  Philippians 2:12-16
when we blend in, we hide the light.
when we compromise, we dim the light.
to shine we must be different from the darkness. 
the reality is: We are a Christians.  We are forgiven.  We are righteous.  We are a children of God.  We are loved.  We are saved.  We are redeemed.  We are the light of the world.   We are called.  We are chosen.  We are a servant of God.  We are filled with the Holy Spirit.  We are witnesses empowered by God.  We are ministers of reconciliation. We are ambassadors.  We are supernatural.
Different.
Don't blend in.  Don't hide the great things that God has done and is doing.  Don't hide GOD from the world.  Don't hide the light.
Light will always penetrate darkness. It is a law of nature. It is the same way in the spiritual realm. When the light of God shows up, it literally shows up, and the darkness flees before it. It must, because that's what darkness does when light comes. Simple.
We are not our own?  For we were bought at a price ;   we were rescued from the useless way of life that we learned from your ancestors. But we know that we were not rescued by such things as silver or gold that don't last forever. we were rescued by the precious blood of Christ, that spotless and innocent lamb ; so  it is no longer I who live, but Christ lives in me; and the life which I now live in the flesh I live by faith in the Son of God, who loved me and gave Himself for me.
1 Peter 1:19, 1 Corinthians 6:19-20, Galatians 2:20
We are not of this world and we don't cling to it.  We make a choice to live our lives in this world, living and breathing and physical, but we are citizens with a Holy Mighty King whom we serve.  We don't blend in with the world.  That takes a decision to be made and a decision to be lived upon. 
Live bold obedient lives.  Make the choice to follow God.  Don't blend yourselves in by compromising.  Don't camouflage yourself by blending in with the world and disobeying God.  Don't let compromise become a way of life.  Be holy and follow God.
Don't compromise in the way you talk.
Don't compromise in what you wear.
Don't compromise in relationships.
Don't compromise in what you watch.
Don't compromise in what you do socially, in the music you listen to, in the places you go, in the conversations you have, in the computer games you play, in the things you read…
The goal is not to live gray lives but to live lives knowing our awesome amazing God that stretched out his arms on the cross, as Jesus Christ, dying to make the way for us to be saved and clean and forgiven and new. The call is to not blend in but to stand out as lights in this world. 
the possibilities for the Kingdom in the online world are real, they're here, and they're now. @stickyjesus
YES!  this is our time!  FOR SUCH A TIME AS THIS!  this is the challenge every day and every moment! 
our opportunities are now, in our ordinary lives.
today.
not when we make it.
not when we're called into ministry.
not when we have a title.
but now.
today.
as a Christian.
as an ordinary person.
But we have this treasure in jars of clay to show that this all- surpassing power is from God and not from us. 2 corinthians 4:7
the world is crying out for truth. hope. love. grace. reality. purpose.  just the other day my younger sister, not a christian, told me in light of all the world events, earthquakes in christchurch and japan, and issues in her own personal life, made her realize how lost she is.  lost. 
the world is moving and morphing at warp speed and the meaningless, dead-end chatter and enemy-crafted banter is piling up online like rush hour traffic.  Christ is being discarded.  biblical values are being marginalized more and more.  influence is the currency and increasingly, Christians are broke.  if you choose to roam aimlessly and blend into the online world, some pay perish – eternally.  @stickyjesus
if we blend in we dilute the testimony we have.  that we WERE lost, but now are found.  that we know salvation and hope and grace and love.  that God IS real.  and that they can too.
if we keep silent how will they hear?  if we live silent how will they know?
God calls each one of us to live our lives out loud, to shine.  to be the light of the world, just as HE is The Light of The World.  to be a lit lamp shinning brightly in its right place.  to glow in the dark like stars in the darkened sky. 
we are witnesses, ambassadors.
in our real lives. and online.
online isnt our real life.  they're the same thing really.  funny how we think just because its words in an electrical box that its not our real life.  it is.  and what we say has consequence and meaning and can be used powerfully to be involved in someones story of knowing God.  we can do this – its how we're made, transformed, wired!  this is God's glorious plan.  flawed broken people who are undergoing grace and love shinning the reality of God's love and healing and forgivness.  wow!
sharing God's truth online goes way beyond microblogging in 140 characters at at ime.  when i tweet, post on fb, or blog, i know the Holy Spirit is working through me.  i believe He can use 140 characters – or no characters – to achieve His purposes, so i just show up and pay attention to His lead.  @thesolidrock @stickyjesus
the testimonies of grace, forgiveness, redemption,  and new life are echoing through cyberspace, if you listen.  @stickyjesus
the goal is to communicate the message of freedom in christ @stickyjesus
the great commission doesnt get turned off when we turn the computer on.  its on all the time. 
and sometimes i think people can be more open online because there is that degree of anonymity.  you dont really know me so i can speak more freely.  i dont have to see your face tomorrow so i can open up about my pain and my loss and my fears and my hopes.  i wont bump into you in the supermarket so i can ask fro help. 
what a gift we have with the internet.  an opportunity.
so this is it, believer: a moment in history in which your life is centre stage for all to consider. @stickyjesus
this is our time to shine.
this is our mission field.
this is our day of harvest.
will we rise up and be intentional about living for jesus 24/7 in all we say and do?
will we be open for the Holy Spirit to lead us and speak through us?
will we partner with God to reach this generation for Christ?
you are no different from the disciples, evangelists and great communicators of the gospel who walked the earth before you.  no different than queen esther, whose knees were shaking before the king, no different than the apostle paul or the fire-hearted evangelist billy graham who both dove headfirst into their cultures with a  message so contrary, that shiny, jaded hearts turned inside out.   @stickyjesus
@stickyjesus is a book to fire your heart up about the mission of God… not just online but in every day life.
we are ordinary people given the opportunity to do extraordinary things through the power and grace of God.  our words can be His words.  words that speak into hearts and breathe hope and life into situations, can draw someone to God.  what a priv.  what an awesome privilege.   but isnt it so right.  one day someone spoke to us about jesus.  one day someone invited us to church.  or said something that lit up in us.  one day someone loved us and cared about us and shared the gospel to us.  we were lost.  but now we are found.  we were sinners but now we are saved by the grace of God.  i love God's glorious plan, that those who EXPERIENCE His love get to share the message of it.  what an audacious and bold plan!  lets live it out!
this is my time!
come join the conversation about @sticky jesus here: @stickyjesus read along.
here are my previous posts on @stickyjesus readalong:
@stickyjesus: demystifying: content gathering
@stickyjesus: Demystifying: Blogging 13
@Stickyjesus – Demystifying Twitter: 12
@StickyJesus Demystifying: Facebook 11
Christ Followers: the game changers 07
Holy Spirit: The Power Source 06
Jesus: Author of Relationships 03
Jesus: The Stickiest Story Ever Told 02