You are currently browsing the monthly archive for August 2009.
We are not fighting against humans. We are fighting against forces and authorities and against rulers of darkness and powers in the spiritual world. Ephesians 6:12
For now we see in a mirror, dimly, but then face to face. Now I know in part, but then I shall know just as I also am known. 1 Corinthians 13:12
In certain ways we are weak, but the Spirit is here to help us. For example, when we don't know what to pray for, the Spirit prays for us in ways that cannot be put into words. All of our thoughts are known to God. He can understand what is in the mind of the Spirit, as the Spirit prays for God's people. Romans 8:26-27
Satan trembles when he sees the weakest saint upon their knees.
The effective prayer of a righteous man can accomplish much. Elijah was a man with a nature like ours, and he prayed earnestly that it would not rain, and it did not rain on the earth for three years and six months. Then he prayed again, and the sky poured rain and the earth produced its fruit. James 5:16-18
Promises:
Know WHO GOD IS
Know WHAT God promises to do and be like
GOD WILL act in accordance with his character
We find the promises of God contained in the Word of God
Prayer is:
talking to God
worshipping God
seeking God
asking God
requesting God
reminding God
engaging God
listening to God
being specific about our wants/needs to God
declaring the truth about God
speaking to our own mind and heart
speaking to other spiritual powers
intimate
personal
conversational
purposeful
task orientated
there is NO right way to pray: pray with faith, humilty and truth/sincerity
prayer can be: loud, quiet, contemplative, worshipful, declaring, aggressive, peaceful, questioning, conversational, specific, warring, meditative, organic
different times and events and seasons require different styles and types and flavours of prayer…
LEARN FROM GOD
BE LED BY GOD
sometimes the most right words are to groan and sigh.  it is not about rituals and formulas.  God doesnt listen to the most eloquent prayers but he listens to his beloved children pray.  its about HEART CONDITION not eloquence and sounding spiritual
we played and worshpped to this version of Revelation Song – by Jesus Culture – at our young adults camp – it is AWESOME.  awseome on so many levels.  including musicality.  but esp because it draws you into God and his presence and you just cant help but worship him and declare his goodness!
Lord, reveal yourself to us.  Show us who you are that we may worship you more and live more closer to your heart.  stir in us a desire for your ways and your kingdom.  we love you so Jesus!
"In the same way there is more happiness in heaven because of one sinner who turns to God than over ninety-nine good people who don't need to." Luke 15:7
i like being involved in happy dancing in heaven!
yay for God's work!
just got home from youth group outreach

)
I will be with you always, even until the end of the world.
Matthew 28:20
The mark of a saint is not perfection, but consecration. A saint is not a man without faults, but a man who has given himself without reserve to God.
– W. T. Richardson
in the comments someone asked how do we do this – so i've added my answer here too

)  how do we make this real in our lives?
its a day by day process i reckon…
consecration = surrednering your will and desire and committing your life to God's will and His ways and forming that in your life, no matter the refinement – its about learning and pressing on and i for me think it only works in the context of relationship – because it hurts and you need the grace and love of God to draw you closer to him and to help you to be willing to surrender and be transformed.
to give ourselves without reserve is to live our life without holding back – to accept the hand of God in our lives and his transformation and discipleship as well to accept his love and grace and friendship! to live with no reservations, no hidden parts in our heart, no everything Lord except this part of my life…
again it takes time and living and learning and day by day choices…
a saint is really just an ordinary person who loves God and allows God to work IN their lives and THROUGH their lives.
a saint knows they are weak and fallen and flawed, but that God loves them and gave His Son to die to pay their penalty, and lives in response and love to His love, forgiven and being forgiven.
that is how i do it.
how about you?
"These things I have spoken to you
so that My joy may be in you,
and that your joy may be made full." John 15
In a fractured world, why be afraid to announce Joy? "The one who is in you is greater than the one who is in the world."
Believe. Announce Joy!"
inspired by a joy filled post over at Holy Experience i am announcing JOY!
these things brought joy to my world this week…
the warm fingers of my daughter around my neck
my son's unabashed and unreserved laugh
the smell of my own hair (sad i know)
a quiet morning brimming with promise
the caller-id of a best friend
the drum beat and guitar rift of Jesus Culture' new cd
turning that music up louder
the crunch of snow
the pinkness of happy cheeks
the comfort of a real hug
the memories eating a jet plane brings of childhood
warm toes
small things yes i know, but fingerprints of my Father's love and creativity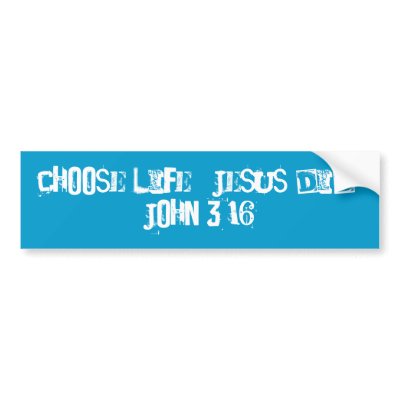 Has anyone ever said to you GET A LIFE?
Did you know the bible tells you EXACTLY HOW TO GET A LIFE?
In fact it is quite black and white on what having life is all about and what not having life is all about….
1 John 5:11-12 says:
God has also said that he gave us eternal life and that this life comes to us from his Son. And so, if we have God's Son, we have this life. But if we don't have the Son, we don't have this life.   He who has the Son has life; he who does not have the Son of God does has no life.
so lets break it down:
LIFE
Life is found in knowing Jesus – in being saved – in being forgiven and made new and clean and holy and acceptable to God….
HEY did u know that when you become a Christian that all the yuck things you've done are taken off your rap sheet – and that you get the same record as Jesus – PERFECT and INNOCENT.  Awesome and amazing eh!
God gives us life – real life isn't just about living breathing eating sleeping school job work marriage kids tv sports etc – its about being ALIVE on the inside…
When we are alive on the inside we are connected to God and are back being his family.  We have all the benefits of that.
Being a Christian is about knowing God – when we are Christians he gives us his peace and love and grace and hope and purpose and we can pray and he will answer.
Lets get black and white and real and raw here….
NO LIFE
If you are not a Christian you are dead on the inside.  No life.
Your rap sheet says GUILTY.
You are separated from God – not only eternally but in this life too.    You are not part of his family.  You are not under his rescuing protection.
In saying that I am not saying God is ignoring you – far from that -  he is trying to get your attention so that you will learn the truth and find out that there is a way made for you to be rescued and saved and to know him – in this life and next life.  In fact God's love is so everlasting for you that he sent Jesus in the first place to die on the cross in a horrible horrid full on punishing sacrificial death so that you can draw near to him and be found.  Right now if you don't know God you are lost and dead.  But he has made a way for you to be found and clean and new and forgiven.
Jesus said to him, "I am the way, the truth, and the life. No one comes to the Father except through Me.  John 14:6
The apostles said about Jesus:  Nor is there salvation in any other, for there is no other name under heaven given among men by which we must be saved." Acts 4:12
And God was pleased for him to make peace by sacrificing his blood on the cross, so you would be brought back to God. You used to be far from God. Your thoughts made you his enemies, and you did evil things.  But his Son became a human and died. So God made peace with you, and now he lets you stand in his presence as people who are holy and faultless and innocent.   Colossians 1:20-22
Who can remember why I started going to youth group when I was 16?
Yip the boys…
Not the most spiritual reason!
BUT I did know that I didn't know God – I didn't believe he was real at that point before – but I kind of did want to know for sure….
A guy at youth group prayed and I KNEW he knew God and that God was real and that I had to do something about it.
I couldn't tuck that knowledge into my pocket and go cool that is neat, God is real, have a nice day.
I HAD TO MAKE A CHOICE.
That is what I am telling you about tonight.
YOU HAVE TO MAKE A CHOICE.
LIFE?  Or NO LIFE?
You know what the difference is.
Life – is ???
No life is ???
We get life by???
We get no life by choosing to live our own lives ignoring God and rebelling against Him and not accepting his one way into heaven.
So how do we make that choice real in our lives right now?
If you haven't made the choice to be a Christian and to believe that Jesus is the one way to heaven and that he makes you new and clean and saved and alive – to trust him with everything you have got and everything you are and will be – to love him and learn to love him – then now is an opportunity.
You want to sure that if you closed your eyes in death tonight that you would open them and see God and he would say WELCOME, YOU BELONG HERE WITH ME.
If you have life, if you have Jesus that is what will happen.
Jesus Christ sacrificed his life's blood to set us free, which means that our sins are now forgiven.  You are saved by faith in God, who treats us much better than we deserve. This is God's gift to you, and not anything you have done on your own. It isn't something you have earned, so there is nothing you can brag about.
Its not about being good enough or Christian enough or knowing about God – it is about being dead once upon a time and being made alive because of Jesus and what he did on the cross for you and for me.
Life?  Or No Life?
youth preach notes for this friday night outreach
A few weeks ago i was really surprized and blessed to be asked to be a contributor on a facebook page that springboarded from a blog i really love – Sound of A Soft Breath/My Devotional Blog – and so have been adding my voice to this devotional on facebook.  its such an honour because brad is so awesome and i love what he has begun and its also an honour because people are reading and being encouraged to draw near to God!  this is what brad wrote about our endevor on facebook:  (oh and if you're on facebook come and join the fun!)

God is so much larger than our human thoughts. Reading scripture expands our thoughts about God. Knowledge from the Bible pushes & pulls at who we understand God to be. Scripture explodes misconceptions and myths we have about our Creator. Get to know God by reading the Bible.
All Scripture is God-breathed & is useful for teaching, rebuking, correcting & training in righteousness… (2 Timothy 3:16)
Devotions in your News Feed
Get daily and weekly Bible devotions right here on Facebook. You know that "Home" page that opens when you first login to Facebook, also known as the "News feed"? Yes right there in your news feed along with your friends status updates you will find a quick look at scripture or some faith encouraging words. Some very short, some more in depth. All designed to encourage, inspire, and challenge you while pointing to God. Sometimes it will be a link to a great blog post or a quote. Sometimes it will be a video, a worship song, or a great message. A Bible Devotional centered on Christ Jesus.
This Facebook Devotional is designed to be a quick reminder at the beginning, end, or in the midst of your day of the Words God has given us in the Bible. Words that have the power to change your day, your life.
These devotions are designed to be responded to. You can write a quick comment like an Amen or simply click on "Like". Also please feel free to comment in more depth with a related Bible verse, a quote, or your own personal thoughts on the devotion.
Share with Friends
You can also very easily share this devotional with your other Facebook friends if desired by clicking on the "Suggest to Friends" link under the page profile image on the left.
Share the Word – Get the Badge!
If desired you can also very easily add a badge or button to your own Facebook profile sidebar by clicking on the "grab this" link under the badge image in the lower left hand sidebar on the sound of a soft breath Facebook page. If you write a blog and want to add this badge or button to your blog this can also easily be done by clicking the same link.
Contributors
There are two of us who are currently contributing to "sound of a soft breath on Facebook": brad and Claire @ One Passion One Devotion. Claire has a wonderful blog. Here is how she describes her mission:
"My life mission is to Know God and make Him Known… and i believe my blog is an extension of my expression of that…" (more)
Claire lives in New Zealand and has a beautiful passion and energy for the Lord that flows right through her writing. She has added a spunk and richness to the Bible devotions here on Facebook. I continue to be blessed by her witting and I encourage you to check out her blog and learn more about her.
Check out the devotions here and if you are not already a Fan consider becoming one and spreading the word.
notes from pastor's preachng saturday night at our young adults retreat:
Book of Nehemiah is post exile… Israel was naughty – prophets told them to repent, consequence was exile…
Jerusalem destroyed, burned by fire. Jerusalem WAS the greatest city on eart – when Solomon was king gold was so in abundance that silver was of no value, all of the nations had been coming to this city, most powerful city on earth,but because of the disobedice they were exiled.
Nehimiah returns, and remembers the city that was…
Nehemiah 2:11
Nehemiah 2:16-18
Let us arise nad build.
Nehemiah saw instead of a ruin, he was looking ahead and he saw what this could be, what God has for the city. He walked all around the city by night and then he shared with all the eople of power what his vision was. And they said yeah, let us arise and build, let us complete this work.
For us and for this generation,
1970's – teaching gift re-established and restored in the church
1980's – the prophetic ministry was restored, people aware that THEY could prophecy (common people)1990's – move of God
2000 – move of God began to wane, over the last 10 years there has been pockets here and there but seems almost quietish… interesting… if it is quiet there is a reason… sense is this, that (music analogy – crescendo, drops, silence, building again, the most almighty awesome finish) this silence we are in is in the dip in the music (church worldwide) – arising.
God is building… we are going to see in our generation something that eclipses what we have seen in generations before.
We have to fight against – when we walk back into a jeruslaem destroyed to be overshawed by the glory from before that we worry about how to rebuild… shadow of the past overshadowing that we're rebuilding and that we
have to pick up a shovel and dig so the glory of the house can be rebuilt…
Acts 2: last days, pour out Holy Spirit
In the LAST DAYS
Dream dreams, have visions…. Preparing for Jesus return!
Build something!
When we build on the rock it lasts!
History makers all were just ordinary people who gave it a go and we look at them now and say they are heroes and extraordinary.
Where are the nehemiahs in this generation????
Jesus is worth it! Every last breath I have!
This generation needs people like Nehemiah who wont see a ruin but will see a city, who don't see just a land but see a city and a nation, who don't just see an altar but see a temple.
It is time for us to stand up and to act now.
Luke 14 – parable of the feast that a king puts on, sends out people to go and invite people to the great feast, inviting his friends – friends send excuses – then the king looks further and wider and finds those who will come – messengers sent out into the street, invites to those who would come and they came and enjoyed the masters feast…
There are things that are important and really count… in our generation there are tens of thousands of people who don't know Jesus and it is happening on our watch… we can make our excuses (bags not me)
A church that says bags not to God has nothing happen… lets open our hands wide and say YES GOD SEND ME
Isaiah 6 – who will I send says God… YES GOD, HERE I AM< SEND ME
A person with a nehemiah heart may not feel like an amazing builder, or have anything to give, or that they are gifted… but what made Nehemiah different was that he wasn't like the others who walked around looking at the ruin and the past, but he stuck at it and pressed on and rebuilt the city… he had a here am I heart…
Here am I lord, when our church is like that God cannot hold himself back, he pours his power out in awesome and mighty ways…
Whatever I have, I am going to pour it out and give.