You are currently browsing the daily archive for April 19, 2009.
i sometimes ask myself why am i so forcefully drawn and magnetically drawn to jesus – what is it that makes me unsatisfied with religion (and in fact if Jesus wasnt who he is and so real and personal i wouldnt be a christian!) and seeking for relationship….
his compassion
his glory
his love
his beauty
his comfort
his normalness
his humility (philippians 2:5-11)
his wisdom
his mercy
his acceptance
his leadership
his faith
he knows me
he knows me yet he loves me
he calls me
he believes in me for good
he never fails
he never gives up
he is with me
he is with me always
he is with me in the flood and fire
he gave his life for me
he lived his life for me
he lives even now for me
he prays for me
his goodness
his greatness
his knows what to say to the right people-ness
his cut thru the crud-ness
his stand-against-forces-of-evil-ness
his determination
his restorationness
his power
he can do it
he has done it
he will do it
you can trust him
you can talk to him
you find answers with him
you find hope with him
he is the way
he is always honest
he cares
he serves
he laughs
everything Jesus is amazes me. he is the everlasting lord and king, he is the shepherd of my soul, the one who walks beside me, the one who lives within me, the one who died for me that i might live.
can you not be drawn to one so amazing? can you not want to live and know all you can about him? is this not more real than any ritual or form? Jesus is the alpha and the omega, the first and last, the coming king, the lamb of God.
i am his and he is mine…
On rare occasions we get a chance to do something radical for Jesus. Something out of the ordinary. Something where we put our lives on the line.  Something great.  Something spiritual.  Something extraordinary.
But most often, faithfulness is expressed in the mundane tasks of life. Meals prepared . . . lawns mowed . . . friends helped . . . prayers offered . . . appointments met . . . tears wiped . . . assemblies attended . . . games cheered . . .
Don't feel guilty that your life borders on mundane. That is where faith, hope, and love are most often lived out.
Thats where we get to demosntrate the nature of God, who God is, in real life.
This doesnt mean our life is worthless or without meaning or insignificant.
Not at all.
We can do extraordinary things in the ordinaryness of our lives.  You see when we live ordinary lives we live them amoungst people.  people who need to know the grace and love God gives.  people who are lost without God.
and in even our ordinary things we can demonstrate God's grace and love.  making a meal for a sick friend.  smiling at people.  taking a packet of chocolate biscuits into work…. simple things.  but they can open teh doors.
dont dispise your ordinaryness.  that is teh gift we have been given to live our lives out demonstrating God, being witnesses for him.  we are citizens of the kingdom of heaven living out our earthly days as ambassadors for him.  you are a light for the world, shinning THE Light of the World, Jesus for all to see.
keep shinning.  dont hide away.  keep being you and be open for God to express who he is through you.
Your faithfulness and obedience makes you extraordianry!
Daniel 11 says the people that know God will be strong and do exploits.
the people that know their God will be strong and do extraordinary things, mighty things, works of valour and wonder.
we all want to make a difference.  but we need to take our eyes off the stage as the only place extraordinaryness can happen and look around us at the opportunity to do exploits.  exploits open eyes that were blind to God and open hearts to his word and salvation.  exploits harvest.  exploits draw people to God.  exploits bring justice and mercy to circumstances.  exploits give.  exploits share the good news of God's wonderful kindness.  exploits are bold in transitioning a conversation to spriitual things.  exploits pray for people.  exploits speak truth.  exploits choose righteousness.  exploits pray and hear from God.
get the picture?  we may think our lives are ordinary and insignificant.  but realize you are anything but ordinary and insignificant.  your name is iengraved on the palm of God's hand and Jesus Christ, the son of God died for you.  the Holy Spirit lives within you and dwells in you and teaches you.  you will live forever.  you have been placed wehre you are and in your life situation as an ambassador for God on a mission.  to partner with hm and work with him.
to speak his message.
to demonstrate his love and grace.
to save the world.
You are…
The creator of all things
maker of stars
imainger of new worlds and universes and butterflies and tigers and dafodils
and the one who calls me to be his friend….
you are the one who brings hope to the hopeless,
peace to the restless,
comfort to those in trial and weary and alone
you are the one who redeems my soul from sin
who calls me to walk with holiness and gave me your own righteousness and record
you are the one who died for me
so that i can be a child of God
you are the answer
to every question
to every need
to every issue
to every problem
to every heartbreak
you are
the one i follow
the one i worship
the one i run to
the one i hide in
the one i obey
the one i seek
in you i find all my hope, all my peace, all my satisfaction, all my love
without you i am empty and walking alone
with you i am full and overflowing, never alone
God you are the One
and i am yours and you are mine
there is a powerful verse in Isaiah, in the Old Testament that says:
Isaiah 49:16  Behold, I have carved you on the palms of My hands;
When you read that in the context of this picture….
it makes you catch your breath… or it does me…
if you've read more of my blog before you'll know that i totally believe that God is personal.  not indifferent or far away, but close and near and here and right with us and for us and his love is everlasting.    the Isaiah 49 verse goes on, after saying our names are written on teh palm of his hands, to say that we are continually and always before him.  always and continaully.  all the time.  forever.  now.  5 minutes ago.  in 3 days.  when we are awake and asleep.  all the time.
and he loves us.  he loves us.  he loves us.
the verse right before the one i have shared above (Isaiah 49:16) reads like this:
Isaiah 49:15  Can a woman forget her suckling child, that she should not have compassion on the son of her womb? Yes, they may forget, yet I will not forget you.
as hard as it is to imagine forgetting ones child it CAN happen.  people neglect their children, they abandon them, they give them up, the reject them.  but as a mother of 2 lovely children they are always in my heart and thoughts nad i carry a photo of them with me always.  when they are at school and kindy i relish my time alone, but part of me misses them.  i cannot forget them.  i cannot help but love them and have compassion for them.   but some mothers do.  that is their life and this is not to judge or condemn.  it is to contrast that God is not like that.
His love is everlasting.  his love is constant.  when all else fail and fade, he is there.  he is secure.  always.   his love and mercy are forever.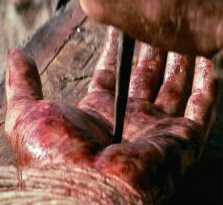 again moved by Isaiah 53, i post this song to encourage you and inspire you and reveal more of God's great everlasting love to you…
by the sacrifice of Jesus we are made whole, new, clean, forgiven, pure, holy and righteous. by the sacrifice of Jesus we can come close to God – Jesus made the way through his death – that we can know God and be known by God.
he bore the punishment we deserve. the wages of sin is death and Jesus has paid this penalty so we do not need to.
i am free because of what Jesus has done.
1 Peter 1:18-19 knowing that you were not redeemed with corruptible things, silver or gold, from your vain manner of life handed down from your fathers, but with the precious blood of Christ, as of a lamb without blemish and without spot;  (MJKV)
1 Peter 1:18-19 But you know that you were not rescued by such things as silver or gold that don't last forever.  You were rescued by the precious blood of Christ, that spotless and innocent lamb.  CEV
you see we had to be rescued.  we were enemies of God by the way we lived our lives and our very heart and character was flawed and corrupted.   But God made a way and he paid the price and made the sacrifice.
Colossians 1:20-22  And God was pleased for him to make peace by sacrificing his blood on the cross, so that all beings in heaven and on earth would be brought back to God.  You used to be far from God. Your thoughts made you his enemies, and you did evil things.  But his Son became a human and died. So God made peace with you, and now he lets you stand in his presence as people who are holy and faultless and innocent.
it is by the wounds of Jesus that we are forgiven.  it is by his blood that we are made clean.  his blood covers over us just as the passover lamb's blood covered over the doorposts so teh angel of death passed by their homes back in Exodus, when the Israelites were slaves in Egypt.
Because of Jesus i am now acceptable to God.  i can come near.  i can be called a child of God.  i can be friends iwth God and walk with God and speak to God and love God.
Not of my own effort or my own good intentions or my own attempts.  but all because of what Jesus has done on the cross.